Deadlier Than the Male
(1967)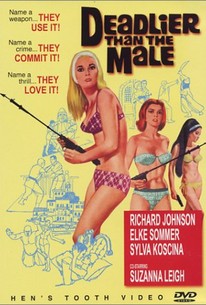 AUDIENCE SCORE
Critic Consensus: No consensus yet.
Deadlier Than the Male Photos
Movie Info
In this 1967 drama, resourceful British agent Bulldog Drummond, who appeared onscreen in a series of spy stories between 1929 and 1951, returned to duty in the wake of James Bond. Here, Drummond (Richard Johnson) is on the trail of Carl Petersen (Nigel Green), a corrupt industrialist who has a bad habit of stealing the ideas of others and then killing them so he can reap their profits. The nefarious Petersen has a team of female assistants willing to kill on command, led by Irma (Elke Sommer) and Penelope (Sylva Koscina). One more Bulldog Drummond vehicle, Some Girls Do, followed in 1969 before the series was retired again. ~ Mark Deming, Rovi
Rating:
NR
Genre:
, , , ,
Directed By:
Written By:
On DVD:
Runtime:
Critic Reviews for Deadlier Than the Male
There are no critic reviews yet for Deadlier Than the Male. Keep checking Rotten Tomatoes for updates!
Audience Reviews for Deadlier Than the Male
½
A poor attempt to copy Bond mania, this knock-off thinks killing people in novel ways and an agent in a Rolls-Royce convertible spells success........ It does not. But for pure retrospective interest in the era, constuming and sets, it is a time capsule look at a late sixties era never to be replicated for sure. [img]http://www.rarecultcinema.com/wp-content/uploads/2013/03/deadlier-418x215.png[/img] PLOT: When a top oil executive dies mysteriously aboard his private jet, the company's board suspects foul play and hires Hugh "Bulldog" Drummond to investigate. Attempts on his own life lead him to believe two lovely females are "hit men" for an international crime syndicate. [img]http://dcairns.files.wordpress.com/2011/03/vlcsnap-3456408.png[/img] "Deadlier Than the Male is a 1967 British crime and mystery film featuring the character of Bulldog Drummond. It is one of the many take-offs of James Bond produced during the 1960s but based on an established detective fiction hero."--wikipedia The best thing about the movie, besides Elke Sommer, was the title. [img]http://www.movieposter.com/posters/archive/main/22/b70-11490[/img] REVIEWS by people like us: 40% I'm a huge fan of the "Bulldog Drummond" series from the thirties and this is the first of two updatings of the character made in the sixties. 70% "Deadlier Than the Male was quite entertaining, definitely a little more campy than the Bond films of the same time period, yet I found myself enjoying... [img]http://4.bp.blogspot.com/-DDPzqjNvH50/T_kRp52nEGI/AAAAAAAAJb0/q6vxDLTuz7Y/s640/Deadlier_Than_the_Male_OS_poster_US.jpg[/img] NOTES: 1 The title is a reference to the 1911 Rudyard Kipling poem "The Female of the Species," which includes the line, "The female of the species must be deadlier than the male".... 2 In an interview, director Ralph Thomas stated that the film was intended as a pilot for a television series. It was filmed in three months with Thomas admitting he did it for "greed". [it couldn't have been for artistic value-- M.Rick] [img]https://encrypted-tbn1.gstatic.com/images?q=tbn:ANd9GcRNJAoxjfzmciPvutKp7eB3yfSsmL2afXvWuDdKr13zIKVmgvIbSA[/img] Insurance inspector Drummond as Bond wanna-be Cast Richard Johnson as Hugh 'Bulldog' Drummond Elke Sommer as Irma Eckman Sylva Koscina as Penelope Nigel Green as Carl Petersen Suzanna Leigh as Grace Steve Carlson as Robert Drummond Virginia North as Brenda Justine Lord as Miss Peggy Ashenden Leonard Rossiter as Henry Bridgenorth Laurence Naismith as Sir John Bledlow Zia Mohyeddin as King Fedra Lee Montague as Boxer Milton Reid as Chang Yasuko Nagazumi as Mitsouko Didi Sydow as Anna George Pastell as Carloggio Dervis Ward as Henry Keller John Stone as David Wyngarde William Mervyn as Chairman of the Phoenician Board [img]https://encrypted-tbn1.gstatic.com/images?q=tbn:ANd9GcQvlOKNmdSaw_bB445A9vuDDFU385e8S6xLcEsbC9XWKOEj5cre[/img] Directed by Ralph Thomas Produced by Betty E. Box Sydney Box Written by Liz Charles-Williams David D. Osborn Jimmy Sangster Music by Malcolm Lockyer title song performed by The Walker Brothers Cinematography Ernest Steward Editing by Alfred Roome Distributed by J. Arthur Rank Film Distributors Release dates 21 February 1967 (London, premiere) Running time 98 minutes Country United Kingdom Language English SEE the entire film here: http://www.youtube.com/watch?v=ViY7CR2TSO8 [img]https://encrypted-tbn0.gstatic.com/images?q=tbn:ANd9GcSKFWkNmZgV8IBXYpbX4Awqj7CSjvVcQht4Nmbw7dxK9q-7cw1Q[/img]
monsieur rick
I'm a huge fan of the "Bulldog Drummond" series from the thirties and this is the first of two updatings of the character made in the sixties. I also love trashy sixties movies, in fact to me Sixties cinema is all about hot Euro-chicks, Hammer monsters, and Elvis churning out B-musicals. So why didn't I enjoy this? Well strange as it may seem it just takes itself far too seriously. Give me the tongue in cheek tone of "The Man From Uncle" anyday. Richard Johnson is well cast though as Drummond; he had rather unwisely turned down the role of James Bond for "Dr. No".
The Movie Waffler
Super Reviewer
This is an excellent Eurospy movie, I thought this was going to be about female spy's but in turn its about the spy Bulldog Drummond and his stopping the assignation of a middle east oil baron, yes even in 1967 oil in the middle east was a big thing. Lots of neat spy stuff, like exploding cigar. Elke Sommer is beautiful as counter agent bad girl, and Richard Johnson plays an excellent Bulldog Drummon, only wished he did more films in this role. 4 stars
Bruce Bruce
Super Reviewer
Deadlier Than the Male Quotes
There are no approved quotes yet for this movie.