Deadly Weapons
(1973)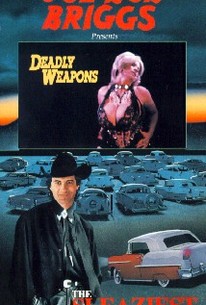 AUDIENCE SCORE
Critic Consensus: No consensus yet.
Deadly Weapons Photos
Movie Info
Extremely top-heavy exotic dancer Chesty Morgan (billed on screen as Zsa Zsa, though the name Chesty Morgan appeared in all the film's advertising) made her screen debut in this wildly improbable crime story written and directed by Doris Wishman. Crystal (Morgan) is an advertising executive who has fallen in love with Larry (Greg Reynolds), a hoodlum working for a mysterious crime boss with a trademark scar on his right hand. While ransacking the home of a rival gangster, Larry finds and pockets an address book which will provide him plenty of blackmail material on his colleagues; when two of them, smart-suited and mustachioed Tony (Harry Reems, whose name is misspelled "Harry Reemes" in the credits) and one-eyed Captain Hook suspect Larry is holding out on them, they kill him and set out to find the book. However, Larry already gave it to Crystal for safe keeping, and when she learns her man is dead, she sets out to find Tony and Hook and get revenge. Inexperienced with a gun, Crystal kills her enemies using the weapons nature gave her -- she smothers men with her massive 73-inch bust. Deadly Weapons was a commercial breakthrough for Doris Wishman, who had been making low-budget sexploitation films since 1960; Wishman and Morgan would team up again for Double Agent 73.
Rating:
R
Genre:
, , , ,
Directed By:
In Theaters:
On DVD:
Runtime:
Studio:
Juri Productions
Cast
Critic Reviews for Deadly Weapons
All Critics (0) | Fresh (0) | Rotten (0)

Audience Reviews for Deadly Weapons
Crime drama and sexploitation go together like peanut butter and jelly, and Doris Wishman is certainly one director who made a career off blending the perverse with the criminal. So, you'd think with a gimmick like Chesty Morgan at her disposal, you'd have an easy winning sleaze-fest. Sadly, you'd be very much mistaken. In "Deadly Weapons," Chesty plays a woman named Crystal, who's boyfriend is a member of the mob. But when he double-crosses his boss, he ends up dead. So, Crystal sets out to revenge her lover with the two best weapons she has: her enormous breasts! That's as far as any story development goes. To say the plot here is tissue thin, is really an insult to tissues. Little in this freak show makes any sense. We never learn what the information is that the crime boss is so eager to recover. And when Chesty's character goes for her revenge, there is absolutely no planning of any kind. She just packs up and miraculously finds her targets. The attempt for a twist ending, unlike Chesty herself, falls completely flat. Throw in some of Wishman's typical directorial excesses throughout the film, like lingering camera shots of the floor or ashtrays and plants, as well as a group of actors who don't know how to deliver lines, even they are sent by Western Union, and you have a train wreak larger than Chesty's own boobs. And speaking of which, let me say, as an American male of the heterosexual persuasion, I love me some boobies. But Chesty's aren't sexy at all. Not just because their massive size is so unseemly, but she really doesn't even know how to use them effectively. There's a striptease scene she does about halfway in the film and it has to be the most unerotic thing I've ever seen. She just looks like she walking through the whole movie bored out of her mind. Even a scene where she bathes is completely unenticing. Is there anything worth seeing here? Well, there is some nice scenic shots of the old 70's Las Vegas and Miami. And the opening montage during the credits is as close as Chesty comes to doing anything of value with her ample mammaries. That's about it, however. No one ever goes into a sexploitation film like this expecting great cinematic brilliance, but you do expect some level of entertainment value, either by arousal or unintentional humor and a fun plot. This film has neither of those qualities, which given Chesty's figure you might think wouldn't be possible. There was certainly enough potential with the material and assets here to make something that could have been some dirty fun, but there was simply no follow through by anyone involved with this production. What you end up with is an uninteresting and unerotic film, which is pretty much a kiss of death in this genre. Unless you are a total Doris Wishman die-hard, this one should be an easy skip for you.
James Meeley
Chesty Morgan, a woman endowed with inconceivable proportions, stars in this low brow masterpiece directed by Doris Wishman. Watch as Chesty smothers mobsters with her mammoth mammaries. One of the lowest moments in trash cinema. And when I say lowest, I mean FINEST.
Philip LoPresti
This movie is a must for what some of us call "le bad" cinema. The idea is great, a woman with unbelievably huge breasts goes on a killing spree to avenge her husbands death. Of course the acting is awful, the writing leaves a lot to be desired, and the plot is over-done, but how often do you get to see a man smothered to death with enormous breasts?
Cassandra Maples
Super Reviewer
Discussion Forum
Discuss Deadly Weapons on our Movie forum!
News & Features