Deadly Messages
(1985)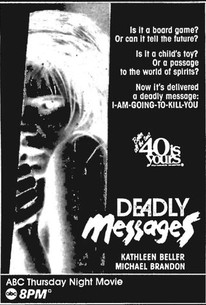 AUDIENCE SCORE
Critic Consensus: No consensus yet.
Movie Info
The messages referred to in the title are those conveyed on a Ouija board. The heroine (Kathleen Beller) conjures up these messages, which indicate that her future happiness is gravely in doubt. In point of fact, the words she spells out on the board are I-AM-GOING-TO-KILL-YOU. A mystery figure from the woman's past intends to fulfill this prophecy--with a dagger. Material like this only works if the producers have faith in it; Deadly Messages appears to have been made by people who found the premise amusing.
Rating:
NR
Genre:
,
Directed By:
Written By:
In Theaters:
Runtime:
Studio:
Columbia Pictures
Critic Reviews for Deadly Messages
There are no critic reviews yet for Deadly Messages. Keep checking Rotten Tomatoes for updates!
Audience Reviews for Deadly Messages
½
I was once working at a video store when a couple I had a regular rapport with had rented the HBO movie CITIZEN X, a decent docudrama about Andrei Chikatilo. When they returned it, they were not impressed. "It was okay, I guess," I believe was their exact comment. "Yeah, but it was made for TV," I mentioned. "Well, in that case," the male of the couple mentioned, "It was pretty good." And, indeed, CITIZEN X is a pretty good movie. In fact, I'd be inclined to say it's near great for a TV-movie. But that's because there's a different set of criteria for movies made for television. You're not expecting much--simply to be entertained for an hour and a half. You know there's not going to be any nudity or extreme violence, and that sleazy CONCEPTS are as far as it's going to get. And by those rationale, DEADLY MESSAGES is pretty good... for a TV-movie. "Dynasty" star Kathleen Beller plays Laura Daniels, a video dating agency employee in a relationship with a lawyer (Michael Brandon). A friend of hers (actress-turned-writer-turned-"Little Mermaid" model Sheri Stoner) uses her ouija board and ends up killed in Laura's apartment, an event Laura witnesses from outside. Laura informs the police, but no body can be found, so the detective on the case (Dennis Franz, in between "Hill Street Blues" and "NYPD Blue") thinks she's crying wolf. The sunglassed killer continues to stalk Laura, but not even her boyfriend believes her after a while, especially after she's fired from her job (by SPACEBALLS' George Wyner) and continues using the ouija board to try to find out clues to the killer's identity. The plot, while not exactly paint-by-numbers, is for the most part pretty predictable. One particular plot point regarding Laura's history is so obviously set up that you'll have it figured out a good half hour before it's actually "revealed" if you're paying any attention at all. Still, there is at least some originality to all the trickery--twists include arson, electroshock therapy, and a series of Children's detective books. DEADLY MESSAGES doesn't rise up above the norm with its structure or revelations, nor does it have a particularly appealing lead cast--Beller and Brandon are fine, but unexceptional. No, what makes DEADLY MESSAGES worth an actual watch is the attention to detail. If you watch closely enough, you'll notice each person that appears on screen is given something to do and an actual character to play. Not just the leads, but EVERY SINGLE PERSON WITH A LINE OF DIALOGUE has clearly been given something of a background. A one-scene doctor laughs an inappropriate moments and has a giggling doll to accompany him. A pizza delivery man extols the virtues of a new type of insolated pizza box. A man in a department store whose hat is stolen by another one-shot character gets bickered at by his wife. It's these tiny bits that give DEADLY MESSAGES a slightly more realistic feel that allows a little bit more of a connection to what's going on. I don't know if this was the direction of Jack Bender or writer William Bleich (who teamed on the also-pretty-good-for-a-TV-movie MIDNIGHT HOUR the same year), but it works. Don't waste too much time looking for it, but if you happen to come across DEADLY MESSAGES on TV, give it a chance. Plus it's got Kurtwood Smith (Police Chief), Scott Paulin (doctor), Charles Tyner (motel owner) and Al Adamston regular Erwin Fuller.
Paul Freitag
Deadly Messages Quotes
There are no approved quotes yet for this movie.