Shalimar (Deadly Thief) (Raiders of the Sacred Stone)
(1978)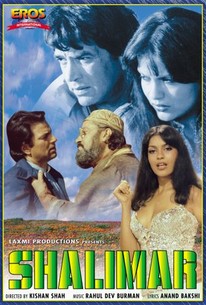 AUDIENCE SCORE
Critic Consensus: No consensus yet.
Shalimar (Deadly Thief) (Raiders of the Sacred Stone) Photos
Movie Info
In this Indian crime adventure, the world's best jewel thief invites his illustrious peers to try to steal the world's most priceless ruby from his home on a remote private island. If they fail, they will die.
Rating:
PG-13 (for some violence and brief sexuality)
Genre:
, , ,
Directed By:
Written By:
In Theaters:
On DVD:
Runtime:
Critic Reviews for Shalimar (Deadly Thief) (Raiders of the Sacred Stone)
There are no critic reviews yet for Shalimar (Deadly Thief) (Raiders of the Sacred Stone). Keep checking Rotten Tomatoes for updates!
Audience Reviews for Shalimar (Deadly Thief) (Raiders of the Sacred Stone)
½
Raiders of the Sacred Stone is about a wealthy man who owns the largest gem in the world. He invites 5 of the most successful thieves in the world to his private island to participate in a contest to see which of them can successfully steal the gem and remain alive. Watchable, but not award-winning.
Michael Dunn
Now look here. I just watched a film titled [i]Raiders of the Sacred Stone[/i]. I looked up the IMDb entry, and discovered its' original title--[i]Shalimar[/i], which makes sense, as the sacred stone referred to in the U.S. title (released five years later to cash in on [i]Raiders of the Lost Ark[/i]) is called the Shalimar Ruby. So I type the [i]Raiders[/i] title into the rt database and find it listed under [i]The Deadly Thief[/i] which, yes, is the same movie. This is an awful lot of effort to trick people into watching the same crappy movie three times, but being a big bad movie fan, I'm used to such tactics, especially with foreign action flicks, and the three titles are especially appropriate since it took me three tries to slog my way through the thing. I will say this in it's defense--[i]Raiders of the Sacred Stone[/i] is the best Bollywood action film I've ever seen with Rex Harrison. Former My Fair Lady star Harrison (in which he played the teacher, not the lady) slums big time as Sir John Locksley, a world-reknowned thief who's recently come into possession of the aforementioned Shalimar Ruby, valued at some insanely-digited sum that I didn't bother remembering. The Ruby, you see, is just a catalyst to for Locksley to bring together four of the best thieves in the world (plus one hanger-on) in a challenge to see who can steal it from him and thus take his "World's Best Burglar" coffee mug away. Locklsey, you see, is dying and bored and in need of entertainment. The entertainment comes from the likes of the thieves, who are each given one shot at nabbing the jewel or face the pointy end of some of Locksley's guard's bullets. There's John Saxon, who plays up the stunts he did in[i] Enter the Dragon[/i] and manages to save the most face of the cast, mostly by playing it mute. There's Dr. Bukhari (prolific Indian actor Shammi Kapoor), who prays a lot and acts like Richard Libertini in [i]All of Me[/i]. There's the token bad guy and the token guy with a past of secrets. And then there's Sylvia Myles, who does lots of acrobatics and wears a big curly blonde wig that makes her look like a 50-year-old drag queen doing Shirley Temple. The problem with a lot of Bollywood films is that pacing is basically thrown out thew window, and[i] Raiders[/i] is a prime example. All the stuff I mentioned happens in the first half of the film, and once the interesting characters start dropping dead and you realize the interplay between the thieves doesn't really amount to much, you're stuck with leading man Dharmendra and his love interest, and their quest to get the hell away from Rex Harrison. While getting the hell away from Rex Harrison is usually a good thing, especially when he's wearing pants as tight as he is here, it's pretty dull to watch. Sure, there's explosions and lots of people fall off the castle where the ruby is kept (you'd think the omnipresent guards would start to notice something going on by the time the third body drops to the ground), but it's all done with such randomness and lack of build-up that you can't help but feel your eyelids start to droop. There's not even any musical numbers to keep you awake, though there is a sequence where natives chant as John Saxon's body is painted yellow. Look, just don't ask. I get the feeling this was cut down from a longer version, as certain plot twists don't make any sense and when one character comes back from the dead, nobody seems the least bit suprised. Or it's possible that it's just an incompetently made film that accidentally stumbles on a couple interesting ideas, as the caper sequences aren't bad. There's just not enough of them, and making your way through the rest of [i]Raiders of the Sacred Stone's[/i] 85 minutes is more chore than fun, though it may be better if you watch it in 3-D (!), which the DVD gives you the option of doing.
Paul Freitag
Shalimar (Deadly Thief) (Raiders of the Sacred Stone) Quotes
There are no approved quotes yet for this movie.