Deadpool 2
(2018)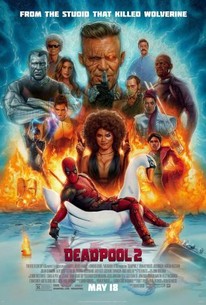 TOMATOMETER
AUDIENCE SCORE
Critic Consensus: Though it threatens to buckle under the weight of its meta gags, Deadpool 2 is a gory, gleeful lampoon of the superhero genre buoyed by Ryan Reynolds' undeniable charm.
Movie Info
After surviving a near fatal bovine attack, a disfigured cafeteria chef (Wade Wilson) struggles to fulfill his dream of becoming Miami's hottest bartender, while also learning to cope with his lost sense of taste. Searching to regain his spice for life, as well as a flux capacitor, Wade must battle ninjas, the yakuza, and a pack of sexually aggressive canines, as he journeys around the world to discover the importance of family, friendship, and flavor - finding a new taste for adventure and earning the coveted coffee mug title of World's Best Lover.
News & Interviews for Deadpool 2
Critic Reviews for Deadpool 2
Audience Reviews for Deadpool 2
½
I'll start off and be completely honest in saying that I thoroughly enjoyed the first Deadpool film, but wasn't blown away or busting a gut laughing from start to finish. The meta jokes were fantastic and the story itself was even quite engaging, but it wore thin for me by the third act. That being said, I found myself hoping that a sequel would be even better. Deadpool 2 has just hit the big screen, and while I can't say it's a funnier movie, I can say the film itself is a vast improvement when looking at the filmmaking alone. This movie does a good job of creating new jokes and even making old jokes funny again, but there's something about these movies that has me having a hard time falling in love with them. Here's why Deadpool 2 comes highly recommended for fans, but not at all for anyone else. Quite a few plot devices are used here, but without getting to any spoilers, Deadpool 2 follows Wade Wilson once again, as he feels the need to protect a young boy with superpowers, while a time-traveling mutant in Cable is one the rise, hunting this boy down. From realizing that he may just work better with partners, to realizing that he may love more than just himself, there are a lot of storylines and emotional aspects that elevate this from another average superhero comedy. I found myself shocked to see how much time was spent on action or drama, instead of the need to always joke around. Yes, this movie is riddled with humor from start to finish, but this felt like a more mature version of the previous film. As far as the humor itself goes, I mentioned that I quite enjoyed what they did with the first movie, but felt that it wore out by the end. This time around, the jokes felt a little more spread out, which is why I believe they worked better here, so I could catch a breath and not be hounded with excessive amounts of comedy. You may actually feel differently about that because there are jokes throughout certain dramatic moments, but I chose to see it as a dramatic moment, rather than a comedic one. So I was pleasantly surprised to see a nice blend of those two genres. Ryan Reynolds continues to prove that he was born to play this role. Not many actors/actresses can prove that they were meant to act in a specific role, but Reynolds is definitely one of the few who can. It goes without saying that his heart is in these movies until the very end, so how was the supporting cast? Josh Brolin delivers a solid performance as Cable, but I feel as though he comes out of nowhere during the beginning of the movie. I felt a little short-changed in terms of his development. His screen time vastly increases by the end and made his character worth it, but I still wished to see a little more from him. Everyone has been seeing images and footage in the trailers for the tease at the X-Force team that Deadpool recruits here, and I can say that their screen time is easily one of the highlights of the entire film. Looking back on the movie, the character of Domino (played by Zazie Beetz) is easily my favorite in the entire film. Her ability is hilarious and very unique in combat, and each of these characters just added another level to the movie, whether they were shining in an action sequence, or just there to make the audience laugh, or leave them shocked. In the end, I enjoyed this sequel just as much as its predecessor. I thought the first movie lacked a tone that this one presented, but the comedy will impress viewers more in the first film, so there is a balance that really has me debating which one I liked more. Deadpool 2 benefits from very solid direction from David Leitch and the fact that Ryan Reynolds joined writers Rhett Reese and Paul Wernick made it feel a little different from the first. The first movie was a celebration that a movie like this could be made, but this one dives a little deeper and I quite enjoyed that about it. While I don't love either of these movies, they are a blast to watch. Deadpool 2 has its issues, but it's a solid movie all around.
Like the first one, this sequel is far too winkingly ironic for its own good but there is still fun to be had .
Alec Barniskis
Super Reviewer
Deadpool 2 Quotes
There are no approved quotes yet for this movie.