Dear Brigitte
(1965)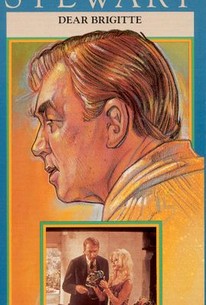 AUDIENCE SCORE
Critic Consensus: No consensus yet.
Movie Info
This family comedy stars James Stewart as Dr. Robert Leaf, a college professor who dislikes science and tries to instill in his children a love of art and music. So Robert and his wife Vina (Glynis Johns) are dismayed to discover that their eight-year-old son Erasmus (Billy Mumy) is tone-deaf and color-blind; what's worse, he has a genius-level talent for mathematics. Robert isn't sure what to do about Erasmus, but while his older sister Pandora (Cindy Carol) puts his skills to work by getting him to do her homework, his older friend Kenneth (Fabian) has a better idea. Kenneth and Erasmus come up with a foolproof plan for picking the winners in horse racing -- so foolproof that it draws the attention of two con men, Upjohn (John Williams) and Argyle (Jesse White), who want to use Erasmus's skills to clean up at the track. Robert at first refuses, and then relents only when they agree to use a cut of the proceeds to endow a humanities scholarship, though Robert is about the only one surprised when the men prove not to be good to their word. Meanwhile, Erasmus is head over heels in love with French screen siren Brigitte Bardot -- so much so that he's been writing her love letters. In return, the lucky boy has received an invitation to come meet her, and Robert and Erasmus use some of their racetrack winnings to fly to Paris and take her up on her offer. Nunnally Johnson, who received no credit, contributed to the screenplay; Miss Bardot, of course, plays herself (who else could?). ~ Mark Deming, Rovi
Rating:
NR
Genre:
,
Directed By:
Written By:
In Theaters:
Runtime:
Studio:
Twentieth Century Fox Home Entertainment
Critic Reviews for Dear Brigitte
There are no critic reviews yet for Dear Brigitte. Keep checking Rotten Tomatoes for updates!
Audience Reviews for Dear Brigitte
½
Fanciful and barely amusing comedy fit only for 1965 audiences. Without Jimmy Stewart, I would have given up on this light comedy. Poet and professor Jimmy Stewart keeps quiting his university job over what he laments is a takeover by the sciences at the expense of the humanities. But what he didn't count on was his 8 year old son being a human computer, a mathematics whiz at computing and predictor of winners at the race track! Briskly paced with plenty of Jimmy Stewart comic rendering of a slightly nutty professor. But don't under estimate the charm and wit of the film, great for family or of any age willing to give it a try. And guess what? No profanity, nudity, killing and some would say humor, but it does have chuckles throughout. [img]http://www.billmumy.com/mumy/filmography/films/Brigitte/Dear_Brigitte_cindycarol.jpg[/img] "Robert Leaf (Stewart) is an American college professor whose precocious son Erasmus (Bill Mumy) is a mathematical prodigy. After using his skills for gambling at the racetrack, Erasmus becomes infatuated with model and actress Brigitte Bardot. He writes love letters to her, and she invites him to visit her in France."--- wikipedia [img]http://www.billmumy.com/mumy/filmography/films/Brigitte/BMbrigitte.jpg[/img] Brigitte Bardot who is the "crush" of the son played by Billy Mumy, child actor of his day NOTES: 1. No suprise, the movie managed to lose money at the box office, but James Stewart being the lead actor in this loss is suprising. Still, old favorites like Ed Wynn as a retired sea captain keep the film moving along. 2. Fabian, teen idol of the day [while Elvis Presley was in the Army], plays Stewart's daughter's boyfriend. 3. Jesse White, veteran actor, plays the man who acts a bookie for Stewart at the race track until arrested. See it here: http://www.youtube.com/watch?v=w24szJbxwv0 [img]http://1.bp.blogspot.com/-6VHfAJkBU3k/UWWbeo67R-I/AAAAAAAAUz0/ljUOmtpeRoQ/s640/$T2eC16Z,!w0E9szNZt7+BR(vc!iDzg~~60_3.jpg[/img] Blonde bombshell of her day, Bardot James Stewart as Prof. Robert Leaf Glynis Johns as Vina Leaf Bill Mumy as Erasmus Leaf Cindy Carol as Pandora Leaf Ed Wynn as The Captain (also the narrator) Fabian as Kenneth Brigitte Bardot as herself John Williams as Peregrine Upjohn Jack Kruschen as Dr. Volker Charles Robinson as George Howard Freeman as Dean Sawyer Jane Wald as Terry, George's Wife Alice Pearce as Unemployment Office Clerk Jesse White as Cliff Argyle the Bookie Gene O'Donnell as Police Lt. Rink Orville Sherman as Von Schlogg Maida Severn as Miss Eva, Ras' Teacher [img]https://encrypted-tbn2.gstatic.com/images?q=tbn:ANd9GcTMj1cWmSkDm26BwQ1RFvAaUSARSTvEUZmsFqpeDCM9eqr37fnTBA[/img] Directed by Henry Koster Produced by Fred Kohlmar Henry Koster Written by John Haase (novel) Nunnally Johnson Hal Kanter Music by George Duning Cinematography Lucien Ballard Editing by Marjorie Fowler Distributed by 20th Century Fox Release dates January 8, 1965 Running time 100 min. Country US Language English Budget $2.47 million Box office $2.2 million [img]http://upload.wikimedia.org/wikipedia/en/thumb/e/e3/Dear_Brigitte_Poster.jpg/220px-Dear_Brigitte_Poster.jpg[/img]
monsieur rick
½
Adorable and sweet little comedy about a boy genius with a cute crush on Brigitte Bardot. Breezy and light with Jimmy Stewart and Glynis Johns well matched.
Dear Brigitte Quotes
There are no approved quotes yet for this movie.
Discussion Forum
Discuss Dear Brigitte on our Movie forum!