Dear Mr. Watterson
(2013)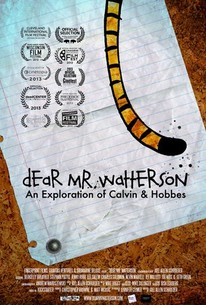 Dear Mr. Watterson Videos
Dear Mr. Watterson Photos
Movie Info
Joel Allen Schroeder's documentary Dear Mr. Watterson: An Exploration of Calvin & Hobbes introduces us to numerous people who were profoundly influenced by the philosophical and very warmhearted comic strip created and written by Bill Watterson, who has studiously avoided the spotlight since ending the strip in 1995. Nearly two decades later, the film showcases how the collected works of Watterson still speak to readers everywhere. ~ Perry Seibert, Rovi
Rating:
NR
Genre:
,
Directed By:
In Theaters:
On DVD:
Box Office:
$15,428.00
Runtime:
Studio:
News & Interviews for Dear Mr. Watterson
Critic Reviews for Dear Mr. Watterson
Audience Reviews for Dear Mr. Watterson
At first this looked like a vapid love fest with an awful soundtrack. As it goes on you get as close a look at the secretive and idealistic Watterson as one can ever hope for. Many of the interviews were top rate.
Sean Chick
It probably would have worked better as a one-hour special, but fans of the comic strip will enjoy this documentary.
Brad Yowell
There are few childhood introductions that you remember. I don't remember meeting extended family members for the first time as a 4 year old or meeting my kindergarten teacher. I do however remember the first time I met 'Calvin and Hobbes'. I was 5 years old, and my mother brought home a really interesting looking book from the bookstore one day. I was inherently drawn to the incredible artwork on the cover of my mothers copy of 'The Indispensable Calvin and Hobbes' treasury, which she kept on the highest shelf in our living room. My mother would only let me read it if I promised to take good care of it and give it back to her when I was done. Over time, I fell so in love with the strip that I would scale the book shelves (which seemed like climbing Mount Everest at the time) to sneak some time with Calvin and his tiger. Looking back, I can't say that anything else from my childhood has managed to preserve its wonder, relevance and wisdom in my world the way 'Calvin and Hobbes' has. Its easy to see why I loved it as a 5 year old. The artwork, the outward funniness of the strip, the imagination, etc. But now in my late 20's, I have found so many more reasons to love these characters. 'Calvin and Hobbes' is about so much more than funny jokes. It is about the wonderment of childhood, friendship, the power of imagination, integrity, nature, philosophy, the human condition, life and death, individuality, and so much more. I really can't think of anything (other than my parents) who influenced my world and my view of it more than 'Calvin and Hobbes'. It is something I hold very dearly, and wouldn't trade for the world. 'Dear Mr. Watterson' is essentially everything I just said spelled out through interviews with other cartoonists, avid fans, influenced celebrities, and cartoon historians. As a film, I can't say that it was a tremendous documentary. It was somewhat scattershot and lacked a real structure. Based simply on its own merit, I would probably rate it a 3/5. It really doesn't bring anything new to the table or present any unique take on its subject matter. It is essentially 90 minutes of hero worship to the strip and its creator, the enigmatic Bill Watterson. That said, hero worship is just fine by me. I completely enjoyed seeing all these people who were touched by 'Calvin and Hobbes' the way I was and hearing their stories. As much as this film lacked a strong overall focus and lineage, I enjoyed every second of it. The film does spend a fair amount of time dissecting Watterson's infamous battles with Universal Syndicate and the licensing of his characters. I personally find Watterson's unflinching and unbreakable artistic ethics one of the more inspiring examples I have ever seen. The man turned down literally tens of millions (and perhaps much more) of dollars to maintain what he believed in and the integrity of his art. He turned down pitches from Spielberg, Disney, Lucas, ABC, and dozens of other incredibly high profile offers, as well as every type of merchandizing under the sun. Watterson understood what his characters were and how they were intended to be viewed. The idea of Hobbes selling MetLife insurance turns my stomach, and the fact that Watterson flat out refused obscene paycheck after obscene paycheck to keep that from happening is remarkable. The film also gets into many more of Watterson's facets: his borderline reclusive personality, complete adverseness to fame, his history, and his influences among them. However, the films primary focus remains on the strip itself, the undeniable impact it had on so many peoples lives, and why it remains so important. 'Calvin and Hobbes' left an indelible mark on my life and my worldview. 15 years after its conclusion, I miss the strip more than I miss most people I knew 15 years ago. While I will always selfishly want more, I am so happy the strip never sold out, never waivered, and never lost the impossibly high standards Watterson set for himself. 'Dear Mr. Watterson' is a love letter to all of these thoughts, and I enjoyed it tremendously.
Julian Toepfer
Dear Mr. Watterson Quotes
There are no approved quotes yet for this movie.