Death 4 Told
(2004)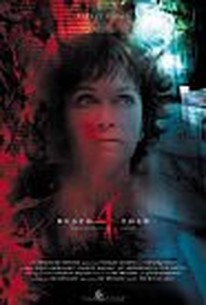 AUDIENCE SCORE
Critic Consensus: No consensus yet.
Movie Info
Time and space connect four bone chilling tales of terror in this horror anthology from filmmakers Bo Buckley and C. Michael Close. The first tale, entitled "The Doll's House" follows a writer experiencing a creative block as he moves into a new house that's unexpectedly occupied. The screams keep coming as the campfire tales told by three college couples prove to terrifying to be fiction in "Folklore," and a reality show goes horribly awry in "World's Most Haunted." The fright builds to a fever pitch in "The Psychic," a grim little yarn about a fraudulent tarot card reader who discovers the terrifying truth behind that old adage "practice makes perfect."
Rating:
R (violence, language and some sexuality)
Genre:
,
Directed By:
Written By:
In Theaters:
On DVD:
Runtime:
Critic Reviews for Death 4 Told
There are no critic reviews yet for Death 4 Told. Keep checking Rotten Tomatoes for updates!
Audience Reviews for Death 4 Told
"Death 4 Told" is an anthology film comprised of four seperate short horror tales that are linked by small, internal references--as one story starts, a car drives by the location where the previous story just took place, for example--and the whole package has a vibe about it that put me in mind of one of my favorite anthologies, "Nightmares" ([URL=http://www.rottentomatoes.com/vine/journal_view.php?journalid=245672&entryid=413439&view=public]review here[/URL]). Unfortunately, this film is nowhere near as good as "Nightmares", as it features mostly weak actors, generally indifferent direction, and scripts so halfbaked the result is barely worth sitting through in most cases. "Death 4 Told" leads with its weakest offering. "The Doll's House". An author and his life move into a haunted house... and virtually nothing happens. The weirdos at the local bar are creepier than the haunting, and the whole thing feels pointless once it ends. The acting is okay, but there's nothing for the performers to work with here. Three of Ten for this one. "Folklore" comes next. Here we have seven typical college students on a camping trip. It starts off badly when they hit a strange animal in the road, gets worse when they pitch their tents on an anicent Indian burial ground, and ultimately ends in completely predictable disaster. Although more happens in this story than the first one, it's trite and fairly nonsensical from beginning to end. There are some vaguely amusing jokes anbd it manages to inspire a tiny bit of dread as it unfolds, so as to be a little better than than the first tale, but still not enough to lift it above a rating of a very low 4. Continuing an upward climb of quality, "Most Haunted" tells the tale of a technical crew that setting up cameras and the control room for a reality TV show that is shooting a segment in a closed insane asylum that is reputed to be one of the most haunted places in the world. To their terror, the TV folk discover the place lives up to its reputation. The biggest problems with this segment seems to be weak sound work and a sequence with a character trapped in a room that goes on for too long. This is the first tale that feels like it has a real point, but the script still feels flabby and unpolished, so we still end up with a rating of 5, the low end average. "Death 4 Told" closes out with "The Psychic". It is by far the best segment of the bunch, partly because it features a veteran actress, Margot Kidder, in a role as a fale psychic who suddenly finds that her tarot deck is making real predictions of doom. The sets for this story are also better, and, in general, it feels like more time, effort, and perhaps money was spent here than on the rest of the movie put together. It might also have helped that this is the one segment of the film that wasn't directed by Bo Buckley, but since I've not seen anything else he's done, I might be wrong. (However, it is interesting to note that the two best segments of the film had Buckley co-writing or not directing.) Still, despite being the best part of the film by far, "The Psychic" fails to deliver an ending worthy of the premise and build-up. Kidder does a fine job, as does most of the supporting cast here, but the script ultimately comes up short and the fale ends up rating only a 5. "Death 4 Told" is a very weak anthology film. Although the acting is universally better than what I've come to expect from modern-day low-budget/no-budget films, and there is a certain undefinable aura about the film that reminded me of a couple of my favorite anthology films, I'm hard-pressed to recommend that anyone seek it out. (And I [i]definately[/i] want to alert you to the deceptive marketing represented on the DVD cover. Tom Savini--who plays a small but important role in "The Psychic"--is VERY prominent on the cover, along with the legend "From the Modern Masters of Horror". I'm sorry, but none of the principles involved in this picture can rightfully be called "masters of horror", and anyone who picks up the film expected Savini's touch or presense to be dominant will be very, very dissapointed. All in all, there are probably better ways to spend your time and money than on this film. (There are amittedly worse ways too, but you can leave this one to the day after you've seen every good anthology film.) Death 4 Told Starring: Margot Kidder, Stacia Andrews, Brian Cade, Britt Marder, George Caleodis, Alicia Goranson, Ann Hudson, Holly Magmani, Tami Reynolds, and Tom Savini Directors: Bo Buckley and C. Michael Close
Steve Miller
Death 4 Told Quotes
There are no approved quotes yet for this movie.
Discussion Forum
Discuss Death 4 Told on our Movie forum!