Death Curse of Tartu
(1966)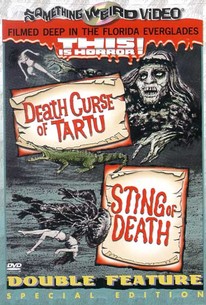 AUDIENCE SCORE
Critic Consensus: No consensus yet.
Movie Info
When a group of college archaeology students accidentally disturb a sacred Indian burial ground deep in the Everglades, they find themselves hunted by the enraged specter of a Seminole medicine man. This campy horror film follows the kids' attempts to escape from the deadly spirit's various incarnations.
Rating:
NR
Genre:
,
Directed By:
Written By:
In Theaters:
Runtime:
Studio:
Falcon International Productions
Critic Reviews for Death Curse of Tartu
There are no critic reviews yet for Death Curse of Tartu. Keep checking Rotten Tomatoes for updates!
Audience Reviews for Death Curse of Tartu
½
A team of archeologists including some grad students explore the Everglades. Soon they decide to strip to their skivvies and party. They piss off and wake a long-dead Injun witch-doctor who can transform into animals. First a shark attacks (yes, in the fresh water), then aligators destroy their boat, then they are pursued by an Anaconda as they try to walk back to civilization (and apparently he has transformed into a tiger in the past). They search out a way to kill the revived Injun and end up getting trapped in his tomb. Poor acting, some cool animal footage, a bit of gore and a lot of booty-shakin' shots make this worth a watch for trash-movie hounds like me.
D M
An undead, shapeshifting Indian shaman takes gory revenge on a group of researchers that has disturbed his underground tomb (located deep in the Everglades swamp). If you're looking for a movie that gets virtually nothing right, "Death Curse of the Tartu" is the film for you. It's got bad actors delivering badly written lines, it's got bland cinematography, pathetic gore effects, some of the worst foley work you'll see this side of silent movies, and so much inappropriate sound track music that you'll grow numb to it. (The director of the film apparently thought that dramatic music during scenes where nothing happens--such as shots of characters trekking through the bushes or someone making coffee at the campfire--would make the film more exciting). To perfect the awfulness of the film, every character is too dumb to ive, including the survivors of Tartu's wrath and even Tartu himself. There are few films that rely more on "Stupid Character Syndrome" to drag itself to its non-thrilling conclusion this one. And then there's the fact that Tartu is buried in a bone-dry, sandstone cave that looks like it belongs in the American Southwest rather than a Florida swamp. It makes absolutely no sense and it destroys what little credibility the film had. (Even if such dry caves are possibly in a goopy swamp, it doesn't feel realistic... a thing that's important to achieve in films like this.) The movie is also deadly dull for the first 35 or so minutes--as it's 12-15 minutes of real material padded with useless film of characters meandering about the swamp--but it picks up a bit when the main group of characters gets to the Everglades. Unfortunately, the padding problem only becomes slightly less severe, causing interesting and even borderline suspenseful parts of the movie to be seperated with some of the most boring bits of film you'll ever sit through. The 2 rating I'm giving "Death Curse of Tartu" is perhaps too generous, but there were glimmers of life in the last 45 minutes of so. If the director and producer had been disciplined enough to make a film 68 minutes instead of 84 minutes, maybe the 2 would be fully deserved. Perhaps this might even be a 3. "Death Curse of Tartu" is available for the first time on DVD via a "Something Weird Video" Floria-themed double feature extravaganza. The second half of the double-bill isn't all that good either, but it looks like a masterpiece next to this one. [url="http://www.rottentomatoes.com/vine/journal_view.php?journalid=245672&entryid=585670&view=public"]Click here to read more about that disk.[/url] Death Curse of the Tartu Starring: Fred Pinero, Babbette Sherrill, Myara Christine and Gary Holtz Director: William Grefe
Steve Miller
There was a memorable shark attack scene in the swamp, and a very bored looking alligator that never moved faster than a sloth, yet managed to chase down a screaming girl who was running away from it... but the number one reason that you should see this film is for the following one liner: "Pack lightly -- just bring the machete and a few tins of food."
Jessica Mutascio
Death Curse of Tartu Quotes
There are no approved quotes yet for this movie.
Discussion Forum
Discuss Death Curse of Tartu on our Movie forum!