Death of a Gunfighter
(1969)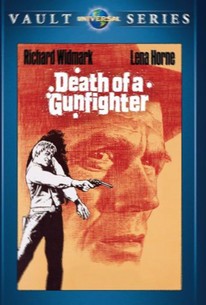 AUDIENCE SCORE
Critic Consensus: No consensus yet.
Death of a Gunfighter Photos
Movie Info
Frank Patch (Richard Widmark) is the town marshall who finds opposition from the town council. Fearing some East-coast investors may stop their proposed cash flow into the town, the council plans to oust the old-school lawman, and Frank takes comfort in the arms of the town madame Claire (Lena Horne). Since Frank refuses to turn in his badge voluntarily, the council devises other ways to have him vacate the position. Lester Locke (Carroll O'Conner) is the testy saloon owner who makes trouble for the marshall. Lou Trinidad (John Saxon) is the sheriff and probably Frank's only friend in town besides Claire. After a dozen killings by the law-abiding marshall, the council is willing to break the law to insure the influx of money into the dying western town in this routine sagebrush saga. Horne delivers the tune "Sweet Apple Wine" during the opening and closing credits.
Audience Reviews for Death of a Gunfighter
A film about America changing from the old West to the new West. No more gun toting sherrifs for this town, even though they hired Richard Widmark 20 years ago to protect them in wilder times. This film has grit and plenty of it. You want drama, this film has it! Roger Ebert called the film "an extraordinary western ...director Allen Smithee*, a name I'm not familiar with, allows his story to unfold naturally." [img]http://upload.wikimedia.org/wikipedia/en/thumb/9/9f/Death_of_a_gunfighter.jpg/220px-Death_of_a_gunfighter.jpg[/img] Now the film really gains traction, ie interest in the last half. Like most films. But like real life, a lifetime of honored service to a community is forgotten. The times were changing and gunslingers were gone so the people felt safe. They had no need for their old sherrif. [img]https://encrypted-tbn0.gstatic.com/images?q=tbn:ANd9GcSGcV2OOK6Gaakny0-yhm8IHx6PU_NxwU1YOWAp4-AB8ThMXMBW[/img] The town tries to kill him as seen here Richard Widmark plays the role of a sherrif that understands one thing. He makes $75 a month for a thankless job. He was promised the job till he did not want it. But that didn't matter to the mayor and his buddies. There is only one way, to kill him. Hats off to Leona Horn (a legend singer in reality), Carrol O'conner (of tv legend All in the Family) both play magnificent roles. Strange, but the town kept critical of our town sherrif for what they called needless killings, but every shoot out was a no choice situation! The problem is that Widmark, the sherrif, was not a smooth talking babysitter of criminals. He wasn't Andy Griffith of Mayberry, who never wore a gun but talked his problem citizens out of every conflict. No, Widmark as town constable was not a talker. He was a doer. For a town that hated the violence of the day, this film ended in pure violence. [img]https://encrypted-tbn3.gstatic.com/images?q=tbn:ANd9GcSjbeoJCAnkUv2lW_PenQp_0BqcmsSDuGDZJ9hby3wJaEMwYo63[/img] I suppose the moral of this story is that there is a right way, a humane way to settle conflicts. But it doesn't always end that way, does it? SEE the entire film here: http://www.youtube.com/watch?v=zBb9VHJRDXM The thought occurred to me that in a lot of ways, this is a film like The Shootist, with John Wayne in his last film with Ron Howard. The times they were a changing. They surely were, in the late 1900's. [img]http://movies11reviews.blogforcash.biz/wp-content/uploads/2010/12/358406_1020_A1.jpg[/img] Widmark, seated REVIEWS by the upaid and underappreciated: 60% "I've got a bad habit of losing my temper" A town informs their long time, old school sheriff that they have decided to modernize and his services are no longer wanted... NOTES: 1 Lena Horn marries Richard Widmark late in the film. For 1969, this was race relations gone wild. Horn is black and everyone back then NEW it, no doubt. But in this film she marries Widmark. Tremendous! 2 This film, above all others, has the really strange distinction of having the real director(s) remaining uncredited! Instead, they dream up a fictional name, Alan Smithee. How weird is that? Here is the explaination: * "The film began under the direction of Robert Totten, an experienced television director (Gunsmoke, The Legend of Jesse James). After clashes with star Widmark, and almost a year of work, he was dropped and replaced by Don Siegel. When the film was finished Siegel did not want his name to replace Totten's. Widmark protested and an agreement was made with the Directors Guild of America for the pseudonym Alan Smithee to be used." [img]http://covers.booktopia.com.au/big/9344256002410/death-of-a-gunfighter.jpg[/img] Richard Widmark as Frank Patch Lena Horne as Claire Quintana Carroll O'Connor as Lester Locke Jacqueline Scott as Laurie Mills John Saxon as Trinidad Dub Taylor as Doc Adams Darleen Carr as Hilda [img]https://encrypted-tbn2.gstatic.com/images?q=tbn:ANd9GcStNvk8kd4R4X0ZVIn0chyKNB6WEh0lpPWV0b0t7a8BvQ8kzUzAaQ[/img] The county sherrif comes to get Widmark out. Directed by Don Siegel Robert Totten both credited as: Alan Smithee (a made up name for the two real directors) Produced by Richard E. Lyons Written by Lewis B. Patten Joseph Calvelli Music by Oliver Nelson Cinematography Andrew Jackson Editing by Robert F. Shugrue Distributed by Universal Pictures Release date(s) April 1969 Running time 100 minutes [img]http://www.universalstudiosentertainment.com/assets_c/2011/08/2022_K0018-thumb-497xauto-11201.jpg[/img] God rest in peace Richard Widmark, screen legend, we miss you dearly
monsieur rick
I've got a bad habit of losing my temper A town informs their long time, old school sheriff that they have decided to modernize and his services are no longer required. The sheriff feels that there's something fishy going on for him to be mysteriously let go; however, he now has time to settle down and raise a family. Will the sheriff go quietly into the night or will he try to uncover the rationale for the town's decision? "I am not keeping you from anything important, Frank, like crawling under my sheets with my wife am I?" Donald Siegel, director of Escape from Alcatraz, Dirty Harry, Two Mules for Sister Sarah, The Beguiled, No Time for Flowers, and The Verdict, delivers Death of a Gunfighter. The storyline for this picture was interesting with a unique spin on a common premise. The action scenes were average and the acting was okay. The cast includes Richard Widmark, Lena Horne, Carroll O'Connor, and Jacqueline Scott. "You're a bad liar. If you want to succeed in this world, you've got to be a good liar." My wife DVR'd this film due to its plot and our love affair with westerns. The premise was solid but the film was a bit stale. The execution did not live up to the film's potential and Widmark didn't have the charisma of a Clint Eastwood or Lee Van Cleef. Overall, this is above average but nothing special. "What's the price of your cheapest funeral?" Grade: C+
Kevin Robbins
The strange hybrid of directing styles is the only aspect of this otherwise routine Western that holds any real interest.
Lee Mayo
Death of a Gunfighter Quotes
There are no approved quotes yet for this movie.
Discussion Forum
Discuss Death of a Gunfighter on our Movie forum!