Death on Demand
(2008)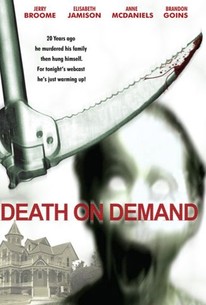 AUDIENCE SCORE
Critic Consensus: No consensus yet.
Movie Info
A live webcast from a reputedly haunted house turns into a supernatural bloodbath when the ghost of a murderous mountaineer returns to finish what he started when he slaughtered his entire family twenty years prior. It's been two decades since famed mountaineer and ice climber Sean McIntire turned the tools of his trade on his unsuspecting family, but grim legends die hard in small towns and the locals still shudder at the mere mention of his name. Now, an unscrpupulous young entrepreneur named Richard is seeking to cash in on this gruesome legend by staging a special Halloween webcast live from McIntire House. Three young couples will attempt to spend a night in the long-abandoned property, but only one will walk away with $5000 in prize money. When the ratings prove less than stellar, Richard attempts to spice things up by throwing a randy porn star into the mix. Later, after a group séance in which the participants revive the spirit of Sean McIntire, they split up into groups and search for the clues that will help them win the competition. His supernatural strength growing thanks to the mystic powers granted to him by Himalayan monks, McIntyre chases the last remaining contestants into the darkened attic of the home as horrified viewers all over campus watch in abject horror.
Rating:
R
Genre:
Directed By:
Written By:
In Theaters:
On DVD:
Runtime:
Studio:
Evil Twins
Audience Reviews for Death on Demand
½
Death on Demand (Adam Matalon, 2008) Before helming the terminally stupid Death on Demand, Adam Matalon had directed two things: Sesame Street skits and a short called Sex and Camping. No, I can't figure it out, either. But it makes a lot more sense than Death on Demand, whose continuity issues in the first half-hour would really be a problem if you could somehow bring yourself to give half a fig about the goings-on therein. Plot: Sean McIntyre (Sixty Cups of Coffee's Jerry Broome) was a mountaineer who went nuts and killed his family twenty years ago. Ever since, his house has stood abandoned, rumored to be haunted. Fast-forward to the present day, and college student Richard DeNola (Over the G.W.'s Dan Falcone), looking for a way to make some quick cash, comes up with the idea of doing a webcast from the house, offering five grand to anyone who manages to stay the night without fleeing. His dad (Ralph Bernard in his first feature appearance), a self-made millionaire, thinks he's nuts, but you know fathers-as long as Richard can get a thousand subscriptions to the webcast, he clears the prize money and makes a nifty profit. In order to massage the numbers, Richard comes up with three teams guaranteed to pull in the local viewers. There are two rival football stars from the team, Biff (All God's Creatures' Josh Folan) and Brad (What Happens in Vegas' Brandon Goins) and their girlfriends, aspiring psychic Darla (The Flying Scissors' Elizabeth Jamison) and Tammy (Apocalypse, CA's Anne McDaniels). The fifth respondent is something of a geek, and subscriptions are flagging, so Richard makes the decision to dump his partner and substitute Velvet Luv (Emerging Past's Krista Grotte), a porn star he's hired. Subscriptions go through the roof-and really explode when a séance held by Darla, engineered by Richard, inadvertently causes the group to bring the spirit of Sean McIntyre back into our world to kill again. I'm pretty sure "dumb" is not the right word to use for this. (I have read a number of reviews that say it's a direct rip-off of Halloween: Resurrection; I haven't seen that one and so can't say, but I'll put it out there just in case.) It has all the hallmarks of exactly the kind of movie you want to avoid: the plot is lame and predictable, the acting is worthless, the direction is fumble-fingered. And if you can make sense out of the openeing sequence before halfway through the movie, you did better than I. If you're looking for a turn-your-brain-off horror movie and your video rental store is out of every other possible choice, grab this. Otherwise, go with something, anything, else. * 1/2
Robert Beveridge
½
Death on Demand is the hilarious tale of three couples competing in a contest to uncover the clues of a family massacre in an old, abandoned house that may or may not be haunted. The contest is being filmed via streamline through podcasts for everyone at home to watch on their computers. After a seance, things go back when the ghost of the unstable mountain climber arises and starts slaying people again with his own damn mountain climbing equipment. If you can get past the GOD AWFUL acting in this film, you may just enjoy yourself. For some reason, this film almost reminded me of Night of the Demons, though nowhere near as good. There are plenty of titties and fucking going on in this film, especially since one of the characters was a celebrity "porn star" contestant. The gore is good as well. All in all, this is pretty low-budget and low quality, but I set my standards low and wound up having fun watching it. Not bad.
Jason Duron
awesomely bad for the most part (the guy is a mountain-climber killer ghost with the most, pick-axe and climber boots with spikes included!), though there are certain flaws. overall it's trashy and it's fun, sometimes all at once or not at all.
Jack Gattanella
Death on Demand Quotes
There are no approved quotes yet for this movie.