Death Ring
(1993)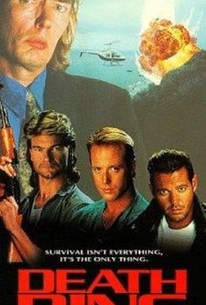 AUDIENCE SCORE
Critic Consensus: No consensus yet.
Movie Info
Martial arts abound in this taut adventure, yet another version of the 1924 classic story "The Most Dangerous Game," by Richard Connell. Big-game hunter Danton Vachs and his pals live on a remote island off the Mexican coastline. The island is densely jungled and Vachs makes a good living staging hunts involving human victims. His latest victim is an exceptional athlete and Vietnam veteran. To get him to the island, Vachs has his girl friend kidnapped and will not release her until the vet, Matt Collins agrees to play. He is given a four hour start upon his pursuers. While making his way through the jungle, he runs into John Blackwell, his predecessor, a survivalist who faked his death, and who has been hiding out on the island ever since. Together the two team up to make it back to the big house, get deadly chopsocky revenge and save Matt's girl friend.
Rating:
R
Genre:
Directed By:
On DVD:
Runtime:
Studio:
Death Ring
Critic Reviews for Death Ring
There are no critic reviews yet for Death Ring. Keep checking Rotten Tomatoes for updates!
Audience Reviews for Death Ring
If you are seeking the world's finest action B from the 90's then search no further. Death Ring is an incomparable film that graces you with a trifecta of acting glory in Don Swayze, Chad Mcqueen, and Mike Norris. A good friend and I caught it very late one Saturday evening years ago and laughed from start to finish. It's a surreal experience that everyone should engage in at least once. It's now become an annual viewing tradition for us both and will always be. It's got action, horrible acting, D list brothers/sons, a $2,000 budget, and a place in B movie history. If I can offer you one bit of advice it'd be to get your hands on Death Ring as soon as you possibly can.
Jason T
[b]Sid the Elf says: BEST MOVIE EVER!!!!!!!!! Death Ring treats everybody right[/b] In 1992, the film world was graced with the creation of the greatest movie ever. Well, maybe not to conventional moviegoers, but to real men and B fans everywhere, Death Ring is the definition of humans living that one moment when they achieve perfection. Chad McQueen and Don Swayze are the dynamic duo that are to B what Redford and Newman are to real movies. Swayze's contorted faces and McQueen's tough attitude and sleeveless denim vest(yeah, they're snaps) make this the best B effort yet. Then when you throw in Mike Norris and his wonderful overacting (take special notice to the completely unnecessary shoulder roll at the end of the movie- One of our favorites)and the always terrible Billy Drago. Drago's character, Denton Vachs, is the diabolical mastermind behind a human manhunt in which he kidnnapps Norris and offers the world greatest hunters(including the immortal Apache) a bounty to kill Mr. Collins on Vachs's private island. Is this the perfect premise for B? Come on. Does Sid the Elf jump out of a stocking? The planets just aligned on this one. So, if you're looking for a life-altering 90 minutes, involvig human safari, watch the best movie ever Death Ring. It is hands down the winner of the Sid the Elf Lifetime Achievement Award for Best B Action.
Sid Elf
Death Ring Quotes
There are no approved quotes yet for this movie.