Deathgasm
(2015)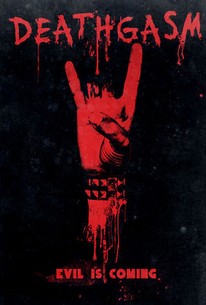 TOMATOMETER
AUDIENCE SCORE
Critic Consensus: Deathgasm plumbs the blood-spattered depths of grindhouse gore with enough giddy glee to satisfy genre enthusiasts looking for a thrill.
Movie Info
New kid in town Brodie and bad-boy Zakk quickly bond over their mutual admiration of heavy metal. But when these two metal thrashing losers unwittingly summon malevolent forces, their dreams of stardom may just have to be put on hold.
News & Interviews for Deathgasm
Critic Reviews for Deathgasm
Audience Reviews for Deathgasm
½
A must see for any 80s horror movie buffs. Gorey, outlandish and insane in the best possible way. A great homage to classic gore fest horror and, most importantly, incredibly fun to watch. The violence does not weight down the movie and only enhances the comedic absurdity of it.
Shane Sackman
Super Reviewer
If you're one of my close personal friends, then you would know that the first music genre that I came to love was heavy metal. It all started when I was 11 years old and I heard a Metallica song off this live album they did with an orchestra. I bought that live album and fell in love with them. After that, I bought all of their records, yes including Load and Re-Load (this was before St. Anger came out). I fell in love with their earlier albums, much like everyone that was a fan of them at that point. My exposure to Metallica opened me up to this genre that I knew very little about. The more I listened to it, in my teen years, the more I fell in love with it. Metallica is certainly the most influential band in my life to my current tastes as a 28-year-old adult. They're not my favorite band, not even close, but they opened me up to this world. And it's a world that I've sort of fallen out of grace with. Not cause of any one particular reason, I just found that it's a bit dull to listen to the same type of music over and over, so I feel I'm more open now to various musical genres . Now I like a little bit of everything, but my heart still belongs to metal. So, realistically speaking, it was obvious that when I had access to Deathgasm, I was gonna watch it immediately. Plus, I always love movies that embrace the more sillier aspects of their concept. Realistically speaking, you can't do this type of film without going all out. Going halfway would just be cowardly. But, if I'm being entirely honest, the film doesn't really get going until the band, the eponymous Deathgasm, play this song that, literally, brings about hell on earth. I don't know, I just felt the film was a little dull leading up to this. It has all the usual stuff of Brodie being bullied because people think he's a satanist due to the music he likes and how he dresses. Which is like assuming that anyone who likes country is a homophobic, racist piece of shit. He has moved in with his uncle, aunt and cousin as his mom tried to suck off a Santa Claus in a crowded mall. He becomes friends with this older kid that got expelled out of school and they start a band. Shit keeps happening, not gonna go into detail, that leads them to getting this black hymn that they then turn into a song. This songs brings hell and this is where we left off. I don't know, I just felt like the first half of the movie kinda dragged and it got to the point where I was just waiting for the shit to hit the fan. When it does, however, it does not let up and the film turns into quite a fun ride of blood, gore and heavy metal. I'm not gonna say it's a really fun movie, it's not quite at that level, I just felt it wasn't consistent enough, but I do feel that horror fans will like a lot of what this movie has to offer. Metal fans will eat this up for sure. The movie is well-written, it's not super hilarious, but it does have some good lines and there's an actual character 'arc', per se, for the Brodie character. He's not the same guy at the beginning of the film that he is at the end. It's not great or anything, but there's at least ome character development. The acting is solid as well, so no complaints there. The one thing is that, now that everything has happened and hell has come on earth, there is room here for a sequel, that's actually already in development. I feel like they can go some really interesting and goofy places, I imagine a situation where Brodie and his girlfriend have to go to hell for one reason or another. The potential is there and I expect a sequel to be better than the original, just cause everything has been established and you don't really need to set everything up as much. Sort of like how Dead Snow 2 was a considerable improvement over the first film. With that said, this movie isn't without its flaws, but once it got going, I came to enjoy this movie quite a bit. It's not perfect or anything, but it is a fun genre film, so I'd recommend it.
Jesse Ortega
Super Reviewer
½
Allow me to be the first to note to you the many resemblances between this film and the brand new Goosebumps movie. Very similar plotlines start things off as well as character types and even straight lines of dialogue. It's actually amazing. The main distinction between the two is tone. This one's for the more adult audience, duh. A death metal band in boringsville, New Zealand must uncharacteristically rally against the ever unhappy Lord Of Darkness, often to humorous effect. A smile or two guaranteed.
Kevin M. Williams
Super Reviewer
Deathgasm Quotes
There are no approved quotes yet for this movie.