Deceit
(2007)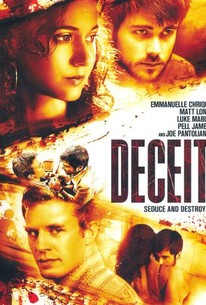 AUDIENCE SCORE
Critic Consensus: No consensus yet.
Movie Info
Money, deception, and obsession form the basis of this simmering psychological thriller concerning a man who enters into a dangerous extramarital affair, only to find that nobody is who they appear to be. Returning home with his girlfriend in order to attend his father's funeral, Dave Ford is comforted to be back in the company of his former best friends Emily and Brian Nicholson. Back in the day, Dave, Emily, and Brian were inseparable; these days his former friends have married and gotten off to a great start in life. When Emily and Brian offer to help Dave restore his childhood home, the old friends instantly pick up where they left off years ago. Everything is perfect until Emily and Brian's relationship turns suddenly violent and Emily knocks on Dave's door seeking shelter from her abusive husband. Before long, Emily and Dave have entered into a passionate affair, with frequent warnings from another old friend that Emily is not who she appears to be continually falling of deaf ears. But the truth has an uncanny way of coming out at the most inopportune times, and now as jealousy flares and relationships unravel Dave becomes hopelessly locked into a deadly game of treachery and deceit.
Rating:
R (adult situations/language, sex, violence)
Genre:
, ,
Directed By:
Written By:
In Theaters:
On DVD:
Runtime:
Studio:
ThinkFilm Inc.
Critic Reviews for Deceit
There are no critic reviews yet for Deceit. Keep checking Rotten Tomatoes for updates!
Audience Reviews for Deceit
I really wish that they would have given some more time to the relationship between the two girls. Of course the poor guy was being set up, you had to have known that from the beginning, but to find out the truth at the very end with no follow up - very upsetting.
Heather Metzger
Pretty good story, decent acting. It held my interest throughout and had enough twists to keep the viewer involved. Entertaining.
James Higgins
[color=black]Skip DECEIT if you can. Like many other before it (BASIC INSTINCT immediately comes to mind, which got more attention), this film portrays a poor little dude who gets hoodwinked by an evil gold-diggin' lesbian. The ending was totally bunk and downright insulting. I did actually sit through all of it, unfortunately (I tried to ditch but my wife wanted me to stick around), and early on the flick showed some promise. Basically a love triangle story, and the main characters were worth paying some attention to, especially Emmanuelle Chriqui (pronounced "Shreeky"; not in much besides some episodes of HBO's "Entourage"), who had me asking "who's that?" She's Canadian with Jewish and Arab heritage. The script was problematic, including back-and-forth with the lead actor telling the story in flashbacks that got annoying. Still, the story was already getting predictable, and sure enough, the "poor defenseless girl" turns out to be devilish and manipulative. Like faking wife battering, for god's sake! Films like these make battering and abuse trivial and even leads people to question those who say it's happened to them. And further, they had to have the detective in on it with her, not Joe Pantolonio's character (who also co-produced). One key rule to any who-done-it flick: you have to surprise/shock the audience without going too far in left field that people say "whatever!" Despite a promising cast, skip this one.[/color]
John Foster
Deceit Quotes
There are no approved quotes yet for this movie.