Anna Boleyn (Anne Boleyn)(Deception)
(1920)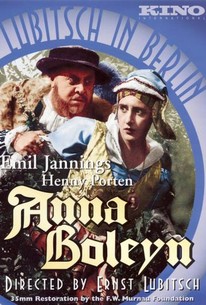 AUDIENCE SCORE
Critic Consensus: No consensus yet.
Movie Info
Anne Boleyn(Henny Porten) is coveted by King Henry VIII (Emil Jannings) when he tires of Queen Katherine. The ruler desires an heir to the throne, and Katherine has not provided one. Henry goes against the wishes of the pope, divorces Katherine, and forms the Church of England. Sir Henry Norris (Paul Hartmann) is her jealous boyfriend who leaves when he suspects Anne and the King of having an affair. A spectacular crowd scene is the marriage of Anne and Henry at the Cathedral and the sumptuous festivities that followed. Henry's attentions turn to Lady Seymour after Anne bears the child that would be Queen Elizabeth. Boleyn is tortured and confesses to infidelity before being sentenced to death by the pompous monarch.
Rating:
G
Genre:
Directed By:
Written By:
In Theaters:
On DVD:
Runtime:
Studio:
Paramount Pictures
Critic Reviews for Anna Boleyn (Anne Boleyn)(Deception)
All Critics (2) | Top Critics (1) | Fresh (2) | Rotten (0)
The New Republic
Top Critic
The glutton king is portrayed by Jannings more comically as a pervert than as an evil villain.

Ozus' World Movie Reviews
Audience Reviews for Anna Boleyn (Anne Boleyn)(Deception)
½
It's a story we all know. Jannings gives a great performance as Henry, but otherwise, this wasn't very interesting at all.
[i]Anna Boleyn [/i]dir. Ernst Lubitsch In this early version of the Anne Boleyn tragic saga, she is portrayed as a neurotic vacillating between four primary states: crying, on the verge of crying, fainting, and on the verge of fainting. She doesn't do much else besides look terrified, put off, and otherwise uncomfortable in this 1920 silent directed by Ernest Lubitsch. Emil Jannings plays King Henry VIII as a man who seems to have no time for important matters of state. He's too busy drinking, eating, hunting, and chasing anything with a skirt and pettycoat. Indeed, this film eschews any historical authenticity in favor of a magnificently designed feast for the imagination. The scale is quite grand and there are hundreds of extras milling about in crowd scenes such as Anne's coronation. The story itself is sacrificed to the grand elegance of the spectacle. Gestures are naturally quite grand and Henry is prone to announcing loudly whenever he's doing something of historical importance. Anna (Henny Porten) comes off as rather pathetic and not sympathetic in the slightest. Therefore, her demise carries no emotional weight. One can only put up with such simpering spinelessness for so long before one starts to drift. Unfortunately, Janning's portrayal of Henry is also mostly a one-note affair. Sure, he's beefy and horny but there really is nothing much else to him. He doesn't do any important procedural stuff, he doesn't even really appear to be king. He's just a fat man running about trying to get his fingers in the knickers of some swooning hottie or another. It's rather comical, actually; so, as a comedy this film works quite well. Overall, this film does manage to create a visually stunning representation of the court of King Henry VIII. It captures the drama, the sexual escapades, and the terrible story of Anna (Anne) Boleyn. Ultimately, it doesn't dare try for historical accuracy because the point of the film is primarily to structure a dream theater replete with grandiose measures and expansive set designs. It certainly feels like it might be taking place in the presence of a king even if the king himself doesn't appear to be particularly stately. Ultimately, this is a fine introduction into the numerous filmic representations of the wretched story of Anne Boleyn. Still, Henny Porten's Anna lacks many of the qualities that history has affixed to the person of the actual Anne Boleyn. It's a decidedly strange characterization that paints Anne as far more hapless and weak than she seems to have been. There's no way Anne Boleyn could have maneuvered her way to the Queendom if she were as feeble as this.
Everett Jensen
Anna Boleyn (Anne Boleyn)(Deception) Quotes
There are no approved quotes yet for this movie.