Decoys
(2004)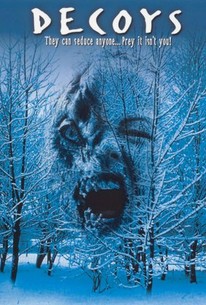 AUDIENCE SCORE
Critic Consensus: No consensus yet.
Movie Info
On a college campus, a rash of unexplained bizarre deaths has left victims all literally frozen to death. A shy college freshman starts to suspect that two hottest blondes on campus are somehow behind it and that they are aliens. However, nobody believes him, and it is up to him to save his friends.
Rating:
R (for sexuality and nudity)
Genre:
, , ,
Directed By:
Written By:
In Theaters:
On DVD:
Runtime:
Studio:
Critic Reviews for Decoys
All Critics (2) | Fresh (1) | Rotten (1) | DVD (4)

O fato do filme não se levar a sério é um pobre consolo para todos aqueles que foram obrigados a acompanhar a ridícula aventura dos sósias de Colin Farrell e Elijah Wood.

Audience Reviews for Decoys
Freaky movie...Let's have sex where upon if you're not compatible, you turn into a human popcicle...Can you say ridiculous"
Ken T
Decoys is appropriately named as it caught my attention while another fifty plus, sub-par but better nonetheless, horror movies escaped the fate of having me rent them that night. The plot is simple and sounds like a horror fan's delight. Aliens disguise themselves as beautiful women and seduce men at a college in order to kill them or at least that's how it's described. The women look gorgeous from a few feet away but on close-ups it becomes beyond obvious that they are middle-aged women under a thin layer of make-up, pretending to be college-aged. The R rating is strictly for sexuality and nudity, the nudity was a single 20 second scene and only revealed how unconvincing the disguises were, holes in the middle of their chests and bodies lacking navels, any implied sexuality was quickly ruined by tentacles coming out of these holes which were created entirely out of bad (and I mean BAD) CG effects so I'm forced to wonder how anybody could include "sexuality" as a reason for upping the rating of this movie? By my standards, this ranks below the Discovery Channel seeing as these creatures are at least fictional. It doesn't take long for the acting to reach a level of such mediocrity that the acting itself creates plot-holes. The main guy is too drunk to stand one second and running across the hall the next. A girl is screaming to be let into a bathroom for a good 2 or 3 minutes and when she comes in, we find that she's about to throw up and clearly can't open her mouth to scream that she needs in and even with her mouth covered (for those who understand what this means) her eyes alone were overacting. Each of the main male leads has at least one scene where they take the opportunity to show off how bad they can act (I can't remember for all the females whether or not they do) although as the movie progresses the acting either improves or I simply grew accustomed to it so the story is just barely comprehensible. The "Decoys" as I suppose they're called, had left their planet and are now killing men on Earth "one dick at a time" as it has been described. In an attempt to not spoil what little this movie has to offer. They are made stronger by the cold and have a weakness against fire but kill their victims by freezing them from the inside out, which makes absolutely no sense b/c as anybody who's ever taken a Physics class can tell you, the only way to freeze something rapidly is to suck the heat out of it, meaning the aliens are preying on men for heat and yet need to occasionally spray their tentacles with liquid nitrogen to keep themselves cold enough. (SPOILER IN NEXT PARAGRAPH) Later, one of the "victims" (who actually volunteers to much protest of the alien who was going to do it, yeah I know it's dumb) manages to survive the mating process without freezing but is impregnated with the alien larvae which crawls painfully out of his esophagus in the best show of special effects the movie has, although it's still very mediocre. After the bugs crawl out of his mouth they burst into icicles or seeds or something, the movie's not very clear. He's rushed to the hospital but dies before arriving. This should be a very emotional scene seeing as he's the main character's brother and the director realizes this except the sad music queue is pulled a few seconds before the character actually dies so it's like the producer cut in with a voice over of his own and said "don't worry, he's about to die" Although the movie abused it's horrible CG renderings, messed up music timing and refused to get the "college-aged women" the dialogue swore you were looking at, the acting is my chief complaint in this movie from beginning to end. The cliche "world's worst detective" who suspected the main character no matter what (completely ignoring the medical mystery that a body was somehow frozen from the inside out), the girl who could magically scream without opening her mouth and even the main character felt the need to yell out some stupid thing ("The launcher says HELLO!!!") every time he was about to attack one of the Decoys at the end. It's not believable, sexy or even logical but gets a 20% for the final scene alone, which although it made an obvious set-up for a sequel (NNNNOOOOO!!!!!!) was hilarious nonetheless.
Jack Linhart
I own this one 2! I realy like it the chics are hot, it has a good story and a good ending! What more could you ask for.
Jason Martin
Decoys Quotes
There are no approved quotes yet for this movie.