Deep Core
(2000)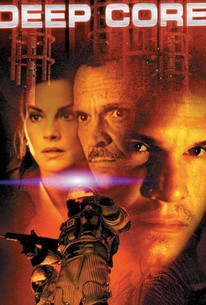 AUDIENCE SCORE
Critic Consensus: No consensus yet.
Movie Info
Ego-driven industrialist Alan Morrisey (Harry VanGorkum) has paid to develop the ultimate mining machine -- a nearly invincible vehicle that uses laser energy to burrow through anything. But the machine's creator, Brian Goodman (Craig Sheffer), knows that it is too good at what it does and could cause repercussions beneath the Earth's core. So he destroys it. Years later, Morrisey has hired another scientist, Allison Saunders (Terry Farrell), to rebuild the machine, and Goodman's predictions of devastation come true. There are earthquakes, tsunamis, and volcano eruptions around the world, and they're only getting worse. It's up to Goodman and his crack team of subterranean disaster fighters -- Sam Dalton (Bruce McGill) and Rodney Bedecker (Wil Wheaton) -- to save the planet by setting off a series of subterranean nuclear explosions, with Morrisey and Saunders along for the ride. Meanwhile, topside, the sinister Daryl Simmons (James Russo) is planning to sabotage the rescue in order to help the Chinese military.
Rating:
PG-13
Genre:
, , ,
Directed By:
Written By:
In Theaters:
On DVD:
Runtime:
Studio:
Unified Film Organization
Critic Reviews for Deep Core
There are no critic reviews yet for Deep Core. Keep checking Rotten Tomatoes for updates!
Audience Reviews for Deep Core
"Go ahead and land the damn plane general. We've got us a job of work to do." That is the brilliant writing you can expect from Deep Core. I know this came before The Core but it's still a rip off of the Paul Preuss book and because of that it's the exact same movie. Either way Phillip Roth once again shows that he's still the worst in the biz.
Kurt Astbury
Now this movie is very very similar to The Core, but it actually came out before The Core which was a huge surprise to me. Now if you want a very good visual of how bad this movie is take the horrible quality of The Core and times it by about 100 then you may have a small glimpse into this films stupidity. This movie has absolutely nothing good in it at all. Bad effects, insanely horrid acting, and a storyline that will have you laughing your ass off trying to figure out what the hell is wrong with the director. I bet somewere on the floor of the editing room are the scenes that actually make this movie make sense. One second the guys are just explosive experts the next they are instantely nuclear scientists and have the knowledge of every science project since the beginning of time. The movie is just idioticy and the director who said I can make this work should be retired because this movie is a disrace to filmakers and actors alike. I recommend not only never renting this movie but never ever even think about seeing it because it may just scare you for life.
Ryan Helms
Deep Core Quotes
There are no approved quotes yet for this movie.
Discussion Forum
Discuss Deep Core on our Movie forum!