Deep Red (Profondo rosso)
(1975)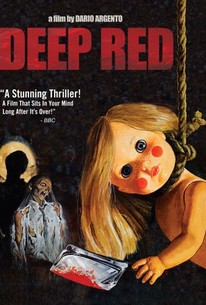 Deep Red (Profondo rosso) Photos
Movie Info
The film that has become the master work in Italian horror maestro Dario Argento's canon, Deep Red holds up brilliantly despite the plethora of copycat slasher films it inspired in the years to follow. The film opens with a flashback murder shown from the perspective of a child while an eerie nursery rhyme plays. Cut to the present, pianist Marc Daly (David Hemmings) witnesses the murder of a psychic while chatting with his drunken pal, Carlo (Gabriele Lavia). While the police investigate, Marc joins forces with attractive reporter Gianna (Daria Nicolodi). Once Marc realizes that he is a target for the killer, he seeks help from Giordani (Glauco Mauri), a professor of the paranormal, who soon becomes one of the killer's victims. Marc's research leads him to an abandoned house where he discovers a secret room that hides a corpse. Before he can call the cops, he is knocked out and awakens to find the place in flames while Gianna holds him. Racing to the neighbors to call for help, Marc discovers an important clue that leads him to a nearby school where he finally finds the killer's identity. The madman attacks him, but the police arrive to save Marc. Though the case appears to be solved, Marc comes to the disturbing realization that one piece of the puzzle remains. ~ Patrick Legare, Rovi
Critic Reviews for Deep Red (Profondo rosso)
Audience Reviews for Deep Red (Profondo rosso)
Marc: Gianna! Gianna! There's someone in the house... absolutely trying to kill me, ya'know?  "You will NEVER forget it!!!" First off, I'm not going to act like I know a lot about Dario Argento or his films. To this point of my life, the only films I have seen of his are Suspiria and now, Deep Red. Both of which are touted as his best. I liked Suspiria a lot more than I did Deep Red, but this film isn't without its merits. I'm sure hardcore Argento fans could tell me why Deep Red is so widely loved, but I don't really see it. Sure there's a lot to take away from it. There's some great kill scenes and some really stylish work, but kills and style have never completely won me over. Deep Red seems to be missing something for me to think of it as one of the best slasher horror films ever. Maybe I'm missing something. I guy named Marcus witnesses the killing of a famous psychic who saw into the mind of the killer. Marcus then teams up with a journalist to find the murderer. It's more a detective story then a true slasher film, and there's nothing wrong with that. Argento always knows when to bump up the tension and there are numerous creepy images including dolls hanging from the ceiling and a wind up, mannequin-ish boy that walks across the room. Where this movie differs from Suspiria is with the atmosphere. I felt that it was lacking the great atmosphere of Suspiria. It may sound like I really hated this film, but I actually enjoyed it. I just fail to see why it has been praised as one of the best ever. It's a good, solid, classic horror film, but it isn't the best. Maybe I'll revisit it in ten years or so after seeing most of Argento's films and I'll have a new appreciation for it. To this point though, I just don't see it. I won't deny that it is completely interesting though. There's some really cool camera work and some great ideas. I loved the usage of the whole, "I saw a painting that disappeared" aspect of the film. Sure it had its whole symbolic usage, but it also lead to the amazing finish and the coolest kill of all. Maybe I don't see why this is so highly acclaimed, but I do see the interest in it. I didn't love it like I thought I would, but I still liked it enough. It's quite possible that I expected to much. I was blown away by Suspiria and I had been led to believe that Deep Red was even better. Maybe with more viewings, I will like Deep Red more than I did the first time, but I guarantee I will never like it more then Suspiria.
Melvin White
Super Reviewer
A minor masterpiece of 70's horror. Like Suspiria, Argento turns the genre upside down with his bright colors and well lit sets, a technique that brings fear out of the shadows and sets it squarely in your lap.
Randy Tippy
Super Reviewer
½
Practically pitch-perfect in execution, Deep Red engrosses us in a suspenseful mystery where, as in classic thrillers, the camera lingers on a clue that the main character is oblivious to. In this case, it's a paint chip that unpeels to reveal another malevolent figure in a children's drawing. Hemmings is thankfully not a brutish gumshoe, he is a non-virile pianist who cannot win an arm-wrestling contest with a willowy woman. The imaginatively sickening death scenes drip with the licorice-red karyo syrup of Gothic giallos. A teeth-bludgeoning scene is unsettling to watch and while the final kill might seem schematic and contrived, its payoff is grotesquely jaw-dropping and doesn't reek of being overly composed. A true Italian horror masterpiece with nightmarish images in spades.
Cory Taylor
Super Reviewer
Deep Red (Profondo rosso) Quotes
There are no approved quotes yet for this movie.