Deep Space
(1987)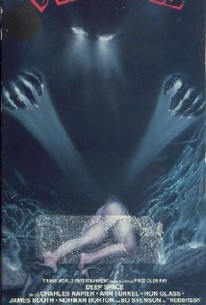 AUDIENCE SCORE
Critic Consensus: No consensus yet.
Movie Info
A surprisingly slick flick from Emperor of Exploitation Fred Olen Ray, the story (which Ray co-wrote with T.L. Lankford, borrowing heavily from the director's earlier Biohazard) begins when a satellite carrying top-secret bio-engineered mutants plummets to Earth and disgorges its slavering contents in a scrap-yard outside Los Angeles. Hot on the beast's slimy trail are a pair of L.A. cops (Russ Meyer-veteran Charles Napier and the miscast Ann Turkel), who butt heads with their chief (Bo Svenson), the military, and the scientists who bred the monster -- until the inevitable confrontation, which features a no-holds-barred grudge match between the toothy slime-demon and a chainsaw-wielding Napier. Campy, fun performances by the talented leads (especially Julie Newmar as a psychic who assists the investigation) elevate this material far beyond the limitations of its hoary premise and Alien-esque monster.
Audience Reviews for Deep Space
½
The title is misleading, but that's okay. It's a cheap movie, with poor acting and low effects- but it's so much fun. The characters are goofy, the monster is actually pretty cool, and there's plenty of gore and chainsaws. Rips off of Alien, in more-than-noticeable ways. It's monster b-movie trash at it's finest.
Wes Shad
½
You know you're in trouble from the opening scene of "Deep Space". The obvious similarities between the alien crashing to Earth in this and the opening scenes of both versions of "The Blob" do not give the viewer a lot of hope that this has anything new to offer them. In that respect, the film does not disappoint as it freely borrows from many other films as well, most notably and obviously from the "Alien" franchise. Director Fred Olen Ray was obviously working from a shoestring budget here as always, but it's the lack of imagination that kills this faster than the lack of money, The origins of the creature is never fully developed as it's just mentioned as being yet another government experiment gone awry. It's hardly the incredible danger those government eggheads warn us it is anyway as it only kills about a half dozen people here, and it's hard to be scared by a creature that's not much taller than its human adversaries. This could have been a fun homage to similar films from the 1950's because it does contain all the rich cliches like the control room with a panel filled with random blinking lights and military cover-ups. But Rey has never been a very creative filmmaker and his movies never stray far from what's expected of them. Most of the laughs here are unintentional and yet the frequent attempts at actual humor fall flat every time. The special effects are particularly shoddy, and disappointingly enough, almost all of the murders happen off-screen. It's pretty easy to tell from the bland title that "Deep Space" will not be anything special, but it is kind of sad that it never even tries to be.
Timothy Sanders
½
72% Suprise, suprise, the creature bares a striking resemblance to H.R. Giger's alien design. Charles Napeir is the man, as a man's man hero and you got to love those chainsaw endings. "You have the right to remain silent."- Captain Robertson (Bo Svenson)
FilmGrinder Stone
Deep Space Quotes
There are no approved quotes yet for this movie.
Discussion Forum
Discuss Deep Space on our Movie forum!