DeepStar Six
(1989)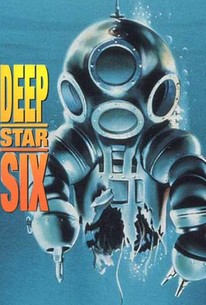 Movie Info
A crustaceous cave-dwelling carnivorous sea monster jangles the nerves of the undersea engineers assigned to install a deep-sea missile base on the ocean floor. The engineers and scientists are also there to explore the possibility of building an underwater colony, but unfortunately, they discover that the earth's crust at their chosen site is unusually thin. Curious, they break through the crust and discover an enormous cavern below. If they had watched Alien and it's numerous rip-offs, they probably would have known better than to go looking within.
Critic Reviews for DeepStar Six
All Critics (7) | Fresh (0) | Rotten (7) | DVD (1)
There are, in short, no human relationships aboard Deepstar Six, just frequent frantic cries of "Mayday!"
A completely intolerable rip-off of THE ABYSS and about ten other movies.
March 21, 2003 | Rating: 1/5
It's better than Sphere ... at 1/10th the price!
July 26, 2002 | Rating: 2.5/5
Audience Reviews for DeepStar Six
In the late 80's after the release of James Cameron's The Abyss, studios seemed to want to cash in on the success of that film by creating a few rip offs with a horror twist. Friday the 13th director Sean S. Cunningham directs this science fiction horror monster film that doesn't offer anything new or original, but is nonetheless a fun, entertaining film for the B movie fan. The film has questionable acting and cheesy dialogue, but for the most part it is a fun film that entertaining. DeepStar Six is not the best film that Sean S. Cunningham has directed, however it works well enough to a fun, mindless ride if you can forget the fact that it rips off The Abyss and Alien. Don't expect anything great with this one. However the film isn't as bad as what the reviews have said and it is a bit underrated. I've always found Cunningham's work after Friday the 13th to be average, and DeepStar Six is most certainly that. This is not a memorable film like the classic Slasher film. Enjoyable with all its flaws, this is a film that like Leviathan is overlooked due to the fact that it's nothing original. Having said that, it's not that bad, in fact it's good for what it is, and in the end it's a film not to take too seriously. Having said that, go into this one expecting a cheesy, tongue in cheek good time and just have a mindless, entertaining evening of watching an obscured cult gem of late 80's horror cinema.
An inexcusably bad rip-off of Alien / The Thing / The Abyss. No story, no actors, no noteworthy special effects, no sets, the terrible stench of 80s costumes and props. What a torture, 97 minutes of my life I never get back, good thing I surfed the Internet while watching it ! Stay away and let it vanish from the world of film for good.
Henrik Schunk
Super Reviewer
I do enjoy a good underwater horror films, this one may not be the best I've seen but there's enough enjoyment to be had. It's all centered around a crew of workers stationed on the ocean floor during the construction of a nuclear launch pad when they suddenly disturb an undiscovered pre-historic creature that then turns its anger towards them. The creature only starts to really get nasty at the one hour mark with a gruesome kill, its only kill really as the rest of the crew tend to get killed off due accidental circumstances, mostly due to the resident screw-up played by Miguel Ferrer. There's the inevitable flooding scenes that crank up the tension and the entertaining squabbles between the crew members provide some funny moments. A decent effort overall, takes a while to get going though.
DeepStar Six Quotes
There are no approved quotes yet for this movie.