Deeply
(2001)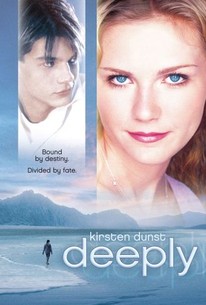 Movie Info
On a remote island in Nova Scotia, teenaged Claire (Julia Brendler) slowly befriends Celia (Lynn Redgrave), an eccentric novelist who is working on a manuscript. The manuscript, which is set a half-century ago, tells the story of Silly (Kirsten Dunst), a young woman who tried to leave the island with the son (Trent Ford) of a WWII naval officer. Deeply cuts between past and present, contrasting the lives of the characters in the manuscript with those of Claire and Celia.
Rating:
R
Genre:
, , ,
Directed By:
Written By:
In Theaters:
On DVD:
Runtime:
Studio:
LionsGate Entertainment
Critic Reviews for Deeply
Audience Reviews for Deeply
Soggy love story of interest only to Dunst diehards. Here she sports some young rugged beauty, enviable long golden hair, and among the worst Canadian accents ever heard. The location of this isolated fishing isle is never specified so, judging from the dialects, for a time I thought it was near Ireland until I began picking out the faces of some familiar Canadian actors. However all the musical cues are distinctly Irish, so who knows? Regardless, Kirsten sounds like she spent some misplaced deep-fried Southern time. Part of the movie takes place in the present where we're supposed to sympathize with a sullen teenage brat (Julia Brendler); part of my brain was whispering "Jump!!" after she climbed in despair to the top of a lighthouse. She meets a crusty old unpublished author (Lynn Redgrave) who recounts her latest work, and that's the story that sluggishly plays out during most of the film. Writer/director Sheri Elwood touches upon a curse that plagues this fishing community every 50 years and hints at a dark secret to lift the curse, but nothing ever comes of the foreshadowing. Much of the rest of the script is similarly underwritten with only a couple characters gaining any foothold, but at least the vital ingredient of the budding romance between Dunst and naval captain's son Trent Ford works.
Doctor Strangeblog
Super Reviewer
½
This film was just OK. I thought it was alternately confusing and implausible. The basic story idea was a good one. We have an ancient Viking curse that calls for the tragic death of one of a pair of young lovers. Later in time, another tragic story of doomed lovers is played out in contrast/comparison to the first. I thought Lynn Redgrave is very good here as a grumpy story teller w/ a story of young love lost. Kirsten Dunst is also very good here. The movie unfolds going back and forth in time between the 2 tragic stories of love lost. I thought this technique was effective and well done. The scenery was beautiful and well shot. The stories began to drag a bit after the first hour or so. In the first story, as a child, the Silly character goes into the water to learn to swim. She takes to it like a fish. She smiles and swims w/ open eyes under water. She sees a mysterious clump of seaweed w/ glowing green bubbles. She emerges from the sea w/ changed eye colour. The village is convinced that she, "is the chosen one". But, chosen for what?? She is warned by her mother to never go into the water. Later, as a young woman, she falls in love. The relationship is forbidden. They flee in a boat. The young man, a sailor, jumps into the sea. He dives under the boat and emerges on the other side. Silly (K Dunst) , loses a valued string of pearls; the young man easily dives and retrieves the pearls. A storm comes up immediately. Silly asks him to return to the boat. He says he cannot. Why not?? He is only a few yards away. He is a skilled swimmer. It does not make any sense. The current time story of doomed lovers does not reveal the cause of death until near the films end. We see a little bit of the lovers relationship but not enough to appreciate their relationship. So its hard to feel the loss. The only way to enjoy this movie is as a fairy tale. You can go with the visual and emotional feel of the film. You need to ignore the troublesome plot points. It seems almost all films require some forgiving of awkward plot features. But, the fewer, the better. Its interesting to note that this film does not have a theatrical release date. Seems it must have gone straight to TV or DVD.
ray h
"All of life is salt water ... tears, sweat and the sea" Claire McKay comes to the island after the tragic death of her boyfriend and finds comfort in the storytelling of an old woman about the curse of the island. A tragic but romantic story of two women trying to move past their grief. Kirsten Dunst's acting was awful but the story was beautiful and very poetic. I love stories about small fishing towns. Something about them is so captivating and they always makes wonderful settings for stories.
Emily Bielewicz
Deeply Quotes
There are no approved quotes yet for this movie.