The Defender
(2004)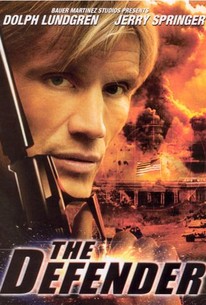 AUDIENCE SCORE
Critic Consensus: No consensus yet.
Movie Info
Rocky IV villain and B-movie leading-man Dolph Lundgren takes his first stab behind the camera with this 2004 action flick. Lundgren is Lace Rockford, an expert security agent heading up a team tasked with protecting the United States' National Security Advisor. When the most diabolic terrorist leader in the world kidnaps the NSA head, it's up to Rockford and company to get her back before it's too late. The Defender also stars talk-show host Jerry Springer as the President of the United States.
Critic Reviews for The Defender
There are no critic reviews yet for The Defender. Keep checking Rotten Tomatoes for updates!
Audience Reviews for The Defender
More Dolph action and this time, amazingly!, its a good 'Die Hard' mixed with 'Aliens' type film. A special forces team led by Dolph are double crossed whilst protecting a secret meeting by mercs hell bent on ending thus said meeting. The resulting action is actually really good as Dolph's team is killed off one by one as they try to fend off the baddie mercs and get the secret meeting members to safety. A lot of decent gun fighting, government conspiracies, a few twists and some reasonable acting make this pretty good. Simply replace the baddie mercs with aliens and you would have 'Aliens' whilst the whole thing could be 'Die Hard' in a hotel...almost hehe. Worth a look if you;re a firm Dolph fanatic for sure.
Phil Hubbs
Super Reviewer
½
A solid directional debut by Dolph Lundgren, he keeps his action hero status in tact with a stylsih and effective attack in directing. A slick, stylish, cool and pulse-pounding action-packed thriller. A smart, excitng, fast-moving and thrilling film. It's packed with lots of great explosive action and gripping suspense. It surprisingly keeps you on the edge of your seat till the end. Even thow there is a lack of character development, the actors behaviour and attitude toward eachother is compelling and enjoyable.
½
'The Defender' is Dolph Lundgren's directorial debut, and he shows that, even out of the starting gate, he's got the goods. This movie is really cool; I didn't like it as much as 'the Mechanik,' (AKA The Russian Specialist) but then again, 'the Mechanik' is in my top ten Dolph movies. In that movie, he's slitting bad guys throats slowly, acting all Russian and stoic, and shooting people's faces off in tepid pools of water in Bulgaria or wherever. This movie is great, but it's heavy on plot for a Lundgren film. There's a message of checks and balances in assuring national security, etc... Lots of commentary on the war on terror and how Osama Bin Laden has become that pig from Animal Farm for us. It's that weird subgenre of Dolph movie like 'Cover Up' or Silent Assassin that focuses on political intrigue than blowing shit up. I'm fine with that; Dolph is stylish with his hair and shooting his guns and effortlessly wrapping chicks around his finger. You'll probably want to rent this because of the Springer factor as well. This is the second thing that connects him to B movie action heroes (the first was 'Ringmaster, where he had Michael Dudikoff play a role). And for Lundgren, it's also the second film in which his co-star is a talk show host (the Peacekeeper with Montel Williams being the other). Dolph is a very impressive director, and I think he could be the Clint Eastwood of B movies and could have a great career behind the camera directing movies with lots of slow-mo and fade outs and yellow. I can just see Dolph one day directing 'Road House' sequels or something and winning DTV awards. My complaints about this are minimal: 'Red Scorpion-esque political commentary, inappropriate use of soft jazz music during shoot outs, and little if any of Dolph actually kicking the crap out of anybody, just opting for gunplay instead. Oh yeah, and that Jerry Springer line is priceless too ("you messed with the wrong country and you fucked with the wrong president!"). Good, good Dolphage. But if you want to see what Dolph can really do, rent 'the Russian Specialist' first.
Jason Anderson
The Defender Quotes
There are no approved quotes yet for this movie.
Discussion Forum
Discuss The Defender on our Movie forum!