Delhi 6
(2009)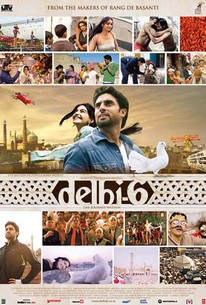 Movie Info
A quick trip from the USA to India turns into a life-altering journey of self-discovery for a man traveling with his ailing grandmother. Upon arriving in Delhi with his grandmother, Roshan (Abhishek Bachchan) begins to experience an inner transformation that he never anticipated. The ancient walled city is a character unto itself -- embodying the chaos of the Indian people, their beliefs, and their religion -- and before his trip is over Roshan will have fallen deeply in love with Delhi. The pin code of Delhi is 110006, though the locals affectionately refer to it as "DELHI-6." ~ Jason Buchanan, Rovi
Critic Reviews for Delhi 6
Audience Reviews for Delhi 6
½
(2009 Director: Rakesh Omprakash Mehra) Interesting tale of a young American man of Indian descent (Abhishek Bachchan) who returns to India for his Grandmother, who wishes to return so that she may die in India. Roshan has his own journey of self-discovery getting touch with his roots in this foreign land where there is animosity between Muslim and HIindu...where the roads are blocked with a sacred cow is giving birth. The believed "terrorizing" by the illusive "Black Monkey" was primarily a humorous idea that gets carried a bit too far. (more review to follow)
½
An interesting movie that centralizes around a neighborhood where everyone's treated either as a friend, and/or a member of the family. Morals, ideals, and characterizations are tested when an imaginary antagonist is invented and begins to create chaos. Roshan accompanies his grandmother to India, and is introduced to a world he's never known before. Differences of opinions began to escalate when "the Black Monkey" begins to terrorize the neighborhood, and its people. Great cast- Abhishek Bachchan, Sonam Kapoor, Rishi Kapoor, Waheeda Rehman, and Om Puri. Worth seeing!
½
The star of this movie is the Old City of Delhi, as seen through the eyes of an American tourist with Indian roots. What some have seen as a disorganized muddle, I would see as a little bit of a tapestry, deliberately showing the loose threads of stories that run out of the box of the movies. As in real life, we see enough to have an idea of what is going on, but we know neither the end nor the beginning of the many background stories of which we see just enough to get a taste. The main plot is fine, albeit a bit on the unbelievable side. The Black Monkey Scare was real, but has been somewhat manipulated to fit the moral of the movie.
Rebecca Howell
Delhi 6 Quotes
There are no approved quotes yet for this movie.
Discussion Forum
Discuss Delhi 6 on our Movie forum!