Delirious
(1991)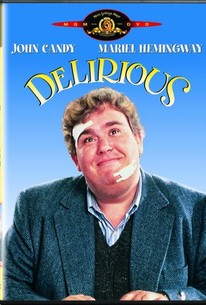 Movie Info
When a soap-opera scriptwriter (John Candy) is knocked out after an accident, he wakes in the fictional city where his soap is set. Unsure whether he is dreaming or being punished by a Dantean scheme of hell, he plays along with the set-up and later finds that frequent returns to reality allow himself to write the script he later acts out.
Critic Reviews for Delirious
All Critics (9) | Top Critics (1) | Fresh (4) | Rotten (5) | DVD (2)
It appears as though Mankiewicz wanted to conduct his own triumphant slapstick symphony with Delirious. He just brought the wrong sheet music to share with his cast.
John Candy goooooood!
October 19, 2003 | Rating: 4/5
Excellent comedy. Really plays the soap opera and magic typewriter gimmicks to the fullest.
July 25, 2003 | Rating: 4/5
Audience Reviews for Delirious
John Candy ends up in a world of his own creation in Delirious. The film follows a writer for the daytime soap opera "Beyond Our Dreams," and through happenstance he ends up getting stuck in his own show. Co-staring Mariel Hemingway, Raymond Burr, and Robert Wagner, the film has a solid cast. However, it's Candy's charisma that carries the film and sets the tone. Still, the writing's rather smart and provides some good satire on soap operas while delivering over-the-top comedy that works really well. But as good as the humor is, it all sort fizzles out in the last act. Delirious has its problems, but it's also a lot of fun and is full of laughs.
Dann Michalski
Super Reviewer
As the title suggests, Delerious is a completely off the wall story, it?s certainly original but quite silly. Maybe worth a watch on tv, if you can?t find anything else to watch!
Lady D'arbanville
Super Reviewer
Delirious Quotes
There are no approved quotes yet for this movie.