Deliver Us From Evil (Fri os fra det onde)
(2009)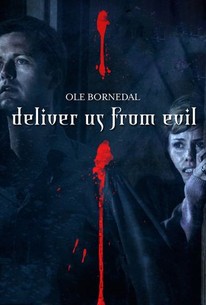 AUDIENCE SCORE
Critic Consensus: No consensus yet.
Deliver Us From Evil (Fri os fra det onde) Photos
Movie Info
With this tense, visceral thriller, Danish director Ole Bornedal meditates on the fury and violence that can so easily manifest themselves as the product of extreme small town xenophobia. Lasse Rimmer stars as Johannes, a husband and father who leaves the familiar city with his wife Pernille and their two children in tow, and relocates to the country town where he grew up years prior. Shortly after the family arrives, Johannes's alcoholic brother Lars accidentally runs over Anna (Lone Lindorff), a local girl - then evilly plants false evidence indicating that a local immigrant, Alain (Bojan Navojec) is guilty. Johannes recognizes his brother's guilt and thus opts to defend Alain - but little can he foresee the vile disapproval, intransigent judgment and revenge-fueled mentalities that surface in the townspeople and will soon thrust his family members into their own personal hell. ~ Nathan Southern, Rovi
Rating:
NR
Genre:
,
Directed By:
In Theaters:
On DVD:
Runtime:
Critic Reviews for Deliver Us From Evil (Fri os fra det onde)
All Critics (4) | Top Critics (1) | Fresh (3) | Rotten (1)
The action takes a dark turn at the town festival that evening, and soon Johannes's home is surrounded -- and the movie revs up.
Globe and Mail
Top Critic
Deliver Us From Evil makes no excuses for the actions of its antagonists, but it's still interested in exploring the motivations of all involved.
Certainly worth a view, but not the breakout Danish film that I've come to expect year after year.

Audience Reviews for Deliver Us From Evil (Fri os fra det onde)
½
I love Ole Bornedal's previous work, but this was a major letdown. The movie starts off promising as a rural drama, but ventures into bizarre territory (not in a good way), becoming laughably implausible and morphing into a cheap Straw Dogs wannabe.
Gabriel Knight
½
"Deliver Us From Evil" is a Danish film written and directed by Ole Bornedal. The film is set in the Danish countryside, after a young father moves back to his hometown with his family, where circumstances soon follow that force him to defend his family, and the way they live their life as well. On the surface, this is a stylish thriller both beautiful and brutal, with events that bring to mind Sam Peckinpah's 1971 classic "Straw Dogs." However, "Deliver Us From Evil," maintains a certain tone that prevents it from reaching the same emotional and psychological impact of its predecessor. Lars (Jens Andersen) and Johannes (Lasse Rimmer), are brothers with very little in common. Johannes is a high-powered lawyer with a beautiful wife and two children; Lars is a drunken truck driver who beats his girlfriend. Having returned to his hometown in the country, Johannes hopes for a less hectic, more genuine lifestyle. But trouble is underfoot when Lars runs over a woman with his truck. He sees only one-way out: put the blame on Alain (Bojan Navojec), a Bosnian refugee with impaired mental functions. Led by the dead woman's husband, a retired colonel whose son was killed in the Serbian theater, the town's population of angry drunks and bitter workingmen instantly jump at the chance to crucify the outsider, but Johannes stands in their way, motivated by his sense of amorality. Undeterred, the violent, drunken horde makes their way to Johannes´ secluded house, where the family and Alain fear for their lives. The house is converted into a fortress, where the madness and siege begins. An engaging, yet over determined setup, the movie does little to complicate. What few twists in the story that exist, don't add to much of anything shocking or memorable. Perhaps it's the saturated high contrast of the cinematography, that while absolutely stunning, it gives the film an artificial feel. The cast is of one-dimensional clichéd characters, who all play predictable roles. The strange choice for a narrator whose introduction of the story makes it seem like it's a family comedy, and not a gripping thriller that is about to unfold. The end result is a brutally violent climactic showdown that may be visceral and exciting, but lacks the grit or the emotional involvement that would have made this one a classic in its own right.
Robyn Nesbitt
Deliver Us From Evil (Fri os fra det onde) Quotes
There are no approved quotes yet for this movie.
Discussion Forum
Discuss Deliver Us From Evil (Fri os fra det onde) on our Movie forum!