Deliver Us From Eva
(2003)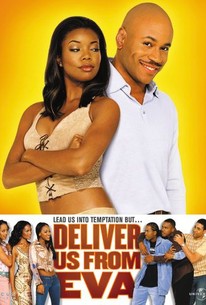 Deliver Us From Eva Videos
Deliver Us From Eva Photos
Movie Info
Three men discover that meddling in their sister-in-law's love life only makes their own lives more complicated in this romantic comedy. Eva Dandridge (Gabrielle Union) developed a sense of responsibility early on in life, when after the death of her parents she was left to care for her three younger sisters, Kareenah (Essence Atkins), Bethany (Robinne Lee), and Jacqui (Meagan Good). All four of the Dandridge sisters have grown up to be attractive, intelligent, and successful; Kareenah is happily married to Tim (Mel Jackson), while Bethany is engaged to Michael (Duane Martin), and Jacqui is going steady with Darrell (Dartanyan Edmonds). However, Eva still watches over her siblings like a hawk, and while her sisters love Eva dearly, Tim, Michael, and Darrell wish their sister-in-law would stay out of their business. The guys decide that if Eva had a boyfriend, she might be less interested in running other people's lives, and they turn to Ray (LL Cool J), a notorious ladies' man, for help. Ray is short on cash, so the guys make him a deal -- they'll give him 5,000 dollars to romance Eva, sweep her off her feet, and then dump her a few weeks later. Ray agrees, and while getting past her no-nonsense demeanor takes some doing, before long she's head over heels for him. However, Ray unexpectedly finds himself falling in love with Eva, and Eva, when offered a job in another town, decides to stay on to be with Ray. Even worse, the other Dandridge sisters are so impressed with the romantic Ray that they start demanding a bit more TLC from their own men.
Rating:
R (for sex-related dialogue)
Genre:
, ,
Directed By:
Written By:
In Theaters:
On DVD:
Box Office:
$17,334,912.00
Runtime:
Studio:
Critic Reviews for Deliver Us From Eva
Audience Reviews for Deliver Us From Eva
Gabriel and LL's chemistry was amazing.Though it was Gabriel that was the star of this film without a doubt!She totally impressed me, and the comedy with the brothers-in-law was outstanding.This movie will make your stomach jiggle in glee!!
Wendy M
I'm pretty sure I stumbled upon this movie without having much interest in it, but it turned out to be a film I could watch several times and still be entertained by. There's great chemistry between the main characters, and while the plot is nothing new, it's still really fun. Love this movie!
Amanda Hendsbee
½
I sometimes wonder if Gabrielle Union is really like this in person. She really likes playing jerks, though LL Cool Jay has a reputation for being one, too. He also has the rep of being a lousy actor. He suffers from what I call Tom Cruise Syndrome, which is the inability to not portray a role in their own real-life persona. Will Smith used to be like that but eventually evolved into a better actor and Oscar-worthy performer. But LL Cool Dude will never do that. Stick with the rap LL. Overall, a bleh movie. Eva's a bitch. So's life. The end.
J K
Deliver Us From Eva Quotes
There are no approved quotes yet for this movie.
Discussion Forum
Discuss Deliver Us From Eva on our Movie forum!