Delta of Venus
(1995)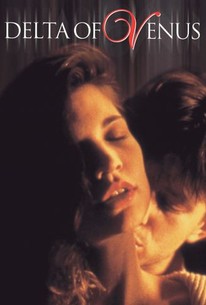 Movie Info
An American writer (Audie England) in 1940 Paris discovers the depths of her sexuality when she begins writing erotica in the aftermath of a failed affair with another author (Costas Mandylor). Based on a novel by Anais Nin. Marcel: Eric Da Silva. Raven Snow. Zalman King directs.
Rating:
R (For strong erotic content)
Genre:
Directed By:
In Theaters:
On DVD:
Runtime:
Studio:
New Line Home Entertainment
Audience Reviews for Delta of Venus
½
A struggling writer learns new creative ways of expression in her work through new experiences of pleasure, during the violent times of World War II's Paris.
Eunice Madera
½
[size=3][font=Times New Roman]The best explanation of Anais Nin's writings and the movie is here:[/font][/size] [size=3][font=Times New Roman]http://www.geocities.com/arsenio_grilo/a_nin_1.html[/font][/size] [size=3][font=Times New Roman] [/font][/size][size=3][font=Times New Roman] [/font][/size] [font=Times New Roman][size=3]The point is that she was trying to write real, intelligent erotica, and was shot down by the anonymous "buyer" who wanted "just sex." The crux of the movie is that the buyer wants porn, but s/he is paying a real writer, who instead is trying to write intelligent erotica. Trying to turn it into a romantic, erotic movie doesn't really work. The male lead was unbelievable. At the end when he asks "Why the fascist?" - the fascist, really, is the easiest to understand - revenge, power, passion in an anonymous atmosphere. The rest of the situations seem contrived and, if you read Ms. Nin's accounts, stories. The point of Ms. Nin's writings is that they are over the top adventures and are stories, which she wrote in order to pay Henry Miller's and everyone else's bills. It is a fun story, but should be taken in the light of a story. If you take any of the characters (particularly the pretty-boy main character) too seriously you lose the point of the movie. Anais Nin is making light of the people who take the heart out of erotica. Hence, the famale lead has all of the emotions that she does througout her adventures, and the lead male character undertands none of them.[/size][/font]
Shelly Who
½
A very amazing adaptation of Nin's book. I enjoyed every moment of this film. I left knowing more about the world of erotica. It has made me interested in erotica ever since.
Lauren Kemerer
Delta of Venus Quotes
There are no approved quotes yet for this movie.
Discussion Forum
Discuss Delta of Venus on our Movie forum!