Dementia 13
(1963)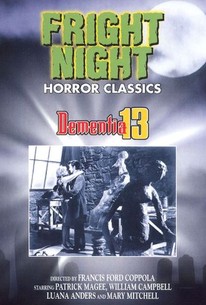 Movie Info
A series of axe murders is extinguishing the members of an Irish family one by one, and the motive turns out to be a large inheritance. The first quasi-mainstream film directed by Francis Ford Coppola, Dementia 13 was produced and financed by Roger Corman. Corman also allowed Coppola the use of several of the stars of Corman's contemporary film The Young Racers.
Critic Reviews for Dementia 13
Audience Reviews for Dementia 13
This early horror cheapie is most famous because it's director went on to catch bigger and better fish. What's looked for are early signs of greatness. Well what's seen is a competent drive-in movie. It's not one of the greats, but it's not a complete washout either, with chills and scares until the big reveal at the end (telegraphed in the first 15 minutes of the film). Coppola's writer and director, and Corman produced.
Kevin M. Williams
Super Reviewer
This low-budget horror film produced by Roger Corman and directed by Coppola before he went on the become a famous filmmaker has evident shades of Psycho but is not even frightening, with a lame, uneven plot in which nothing much really happens.
Carlos Magalhães
Super Reviewer
½
Not a bad schlocky horror flick overall, but the real reason this film is even remotely noteworthy is that it's the directorial debut of Francis Ford Coppola (credited as Francis Coppola in the credits). Before Coppola directed landmark cinematic masterpieces such as "The Godfather" and "Apocalypse Now", he directed this low budget chiller with B-movie king Roger Corman producing with funds left over from "The Young Racers". Coppola's raw vision is definitely made apparent through some inventive cinematography and atmospheric locations. The film is sprinkled with brilliant scenes like the film's first murder and the opening sequence. It is also apparent that Hitchcock is one of Coppola's influences because the plot is essentially a low-rent "Psycho". Eventually the movie becomes bogged down by a drawn-out mystery plot that makes the film drag in the second half. The plot also becomes so incomprehensible at times that it becomes hard to care because their is barely a central protagonist. Plus some juvenile gore effects make the film border on silliness. This B-grade horror chiller is certainly watchable but I've seen better.
Christopher Heim
Super Reviewer
Dementia 13 Quotes
There are no approved quotes yet for this movie.