Demolition High
(1996)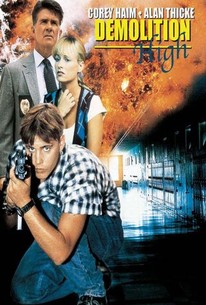 AUDIENCE SCORE
Critic Consensus: No consensus yet.
Movie Info
This actioner is set at a California high school and centers on the courage of misunderstood and ostracized newcomer from New York who proves himself a fearless and creative leader in the face of terrorism. Lenny hasn't been in the school long. Branded a troublemaker by teachers, bullied by jocks and ignored by the girls, his new West Coast life is a shambles until the terrorists, who have just robbed a nuclear plant, show up and take almost everyone hostage. Lenny is among the few who are not captured. It is he who rallies the other stragglers and begins luring the terrorists individually into the school where they are killed in clever and gory ways while outside the school the military and the police, led by Lenny's father, scramble and bicker uselessly amongst themselves.
Rating:
R (Violence, some language)
Genre:
Directed By:
Written By:
On DVD:
Runtime:
Studio:
Sunset Films International
Audience Reviews for Demolition High
This braindead Die Hard rip-off takes place in a high school, instead of a skyscraper, featuring a clearly 25 year old lead actor playing a high school student. Rife with idiotic bad guys, annoyingly obvious traps, and cringe-inducing one liners (I prefer to just boo), this film is great to heckle from the back row with friends. Robin Thicke's dad is in it too.
Altered Ego
very underrated indie classic movie. with Corey haim who comes through as a fearless teen. its die hard in a school and let me tell you this movie kicks ass and its tons of fun to watch I mean isn't that what a action movie is meant to be
bloody white trap
OK so we all know of the old adage 'Die Hard on a...' well this would come under the term 'Die Hard in a school' literately. Fun to watch but never a great actor Corey Haim leads this 'Toy Soldiers' rip off as a group of terrorists take over a rather sparsely populated high school and its up to him to save the day. The whole thing is really very cheap and dumb but somehow enjoyable. The big bad villain is played by Jeff Kober and he growls nicely into the camera as he threatens the students. His accomplices are all faceless with no background development accept for one female who seems to be there simply for sex appeal and the fetish of watching a woman kill faceless policemen and security guards. She was obviously the directors fave thing as she adorns the films poster for some reason. Haim even has his own white vest in some sequences in a cute homage (?) to the film they are ripping off haha. Loving the cheapness, loving Haim's huge ridiculous earring (what is that about?) and loving the total predictability of the happy ending. Had this been made in the 80's it could of been a trashy cult.
Phil Hubbs
Super Reviewer
Demolition High Quotes
There are no approved quotes yet for this movie.