Demon Hunter
(2005)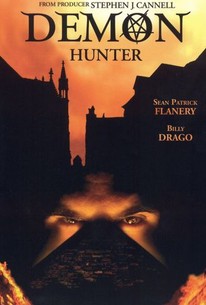 AUDIENCE SCORE
Critic Consensus: No consensus yet.
Movie Info
A demon has come to Earth to force possessed women to bear its children, and it's up to a half-human/half-demon hybrid to save the human race in Earth vs. the Spider director Scott Ziehl's dark tale of satanic terror. As possession sweeps the land and the population of the planet lies helpless to defend themselves against the growing supernatural forces that surround them, the offspring of a demon and a human (Billy Drago) must fight to ensure the human race remains free from the murderous influences of Satan's minions.
Rating:
R
Genre:
Directed By:
Written By:
In Theaters:
On DVD:
Runtime:
Studio:
Anchor Bay Entertainment
Critic Reviews for Demon Hunter
All Critics (2) | Fresh (0) | Rotten (2) | DVD (1)

Stolen plots, stupid stories, and silly monsters I can take, but there's no damn reason a 75-minute movie should feel like 275.

Audience Reviews for Demon Hunter
½
Demon Hunter (Scott Ziehl, 2005) Another of those "Stephen J. Cannell, what were you thinking?" direct-to-video horror cheapies Cannell churned out like he was trying to be Roger Corman during the middle of the last decade (one of which, The Garden, actually found its way into theatres, presumably by accident). If you've seen any of Cannell's more cheaply-produced TV shows, you've got a basic idea of what you're going to get from these movies, save that there will of course be more nudity and more graphic violence. Of those I've seen, Demon Hunter is actually the most satisfying on a number of levels, which probably has to do with the quality of its cast. Plot: Jake Greyman (The Boondock Saints' Sean Patrick Flanery), a half-human, half-demon who makes his living as a demon hunter for Mother Church, is hired by the somewhat paranoid Cardinal White (House of 1000 Corpses' William Bassett) to figure out whether a demon is behind certain recent events. To keep him in line (well, as much as possible), he's assigned a chaperone, Sister Sarah (Baby Blues' Colleen Porch). Needless to say, the two of them find out pretty quickly that yes, the demon Asmodeus (The Untouchables' Billy Drago) and his sexy henchman, a nameless succubus (Something's Gotta Give's Tania Deighton), are behind etc. Ultimately, it seems, the demons are after Nancy Lebinowitz (The Hard Easy's Nancy Yoon), the widow of a billionaire arms dealer, and the demon hunters have to figure out why. The draw here is a surprisingly solid cast of B actors; it's likely you're a fan of at least someone in this cast (I watched it because I adore Colleen Porch ever since Baby Blues). It helps that the director at least knowsn his way around a camera; Ziehl does low-budget genre work (he's best known for the Rob Lowe vehicle Proximity back in the nineties), but he does it pretty well. Both of these things help balance out the kind of horrific script turned in by stuntman Mitch Gould (recently seen jumping around, falling, etc. in Twilight); both actors and director do the best they can given the material, and in the end, they come up with a watchable movie. It's not great cinema, to be sure, but I've seen a lot worse. ** 1/2
Robert Beveridge
½
Like Blade Runner but with the replicants replaced with demons... and it's shit. Pretty much a carbon copy of many other Zone Horror TV films. It has it's fun moments and you can really relish in the poor moments if you enjoy the sort of self harm watching as I. Some generic kung-fu fights, filthy ladies who get naked and a leather clad protagonist. Tries to address issues such as morality but fails. Poor dialogue distracts from a poor screenplay in general so there's no escape. Still I was certainly enthralled when the strangely attractive nun changed in the last ten minutes. Bizarre.
Luke Baldock
Super Reviewer
½
This movies was SO disappointing, especially because it held such promise. When I was watching this, all I could think about was how much better it could have been. The characters were wasted where there could have been depth, there was clumsy fighting where there could have been finesse, or at the very least graceful dialogue. I even found this film vaguely misogynistic, with none of the female characters having any internal merit. Plus I hated the main character. If this was remade by someone with a brain, I might be interested in that movie, but this one is a total failure.
Emily Armstrong
Super Reviewer
Demon Hunter Quotes
There are no approved quotes yet for this movie.
Discussion Forum
Discuss Demon Hunter on our Movie forum!