Demon Wind
(1990)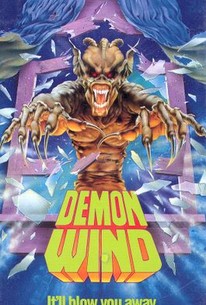 AUDIENCE SCORE
Critic Consensus: No consensus yet.
Movie Info
A group of young people travel to a haunted house, led by Cory (Eric Larson) and Elaine (Francine LaPensee). It seems that Cory's ancestors were murdered there and his father became insane after investigating the incident. What they find is an occult meeting-place populated by zombies waiting for the appearance of Satan.
Critic Reviews for Demon Wind
All Critics (1) | Fresh (0) | Rotten (1)
No, it doesn't refer to protoplasmic flatulence, but it might as well.

Mountain Xpress (Asheville, NC)
Audience Reviews for Demon Wind
I actually enjoyed this movie and was rather entertained by it. I think the best part is the visual effects also the kind of annoyance of trying to get out of a place that keeps pushing you back.
Matthew Marks
Demon Wind is the story of Cory (Eric Larson) and his eight (!!) friends who accompany him on his quest to discover his family history after the suicide of his estranged father. Against the warnings of the know-it-all wise man, the group ventures out to the old abandoned farm where Satan worshiping, demons, and murder ran rampant. Naturally, the group becomes trapped on the farm, unable to leave the area, and are picked off one by one as they attempt to battle all of the undead demons/zombie hybrids that come after them until an epic battle between Cory and Satan ensues, with plenty of campy 90's gore effects and unintentional comedy abound. The movie has its up and downs. It takes 45 minutes to get to the first death within the group (which was actually awesome and creepy. Hell, that same person manages to have 2 awesome deaths actually), but then the characters become a bit annoying (thanks to the writing and direction from Charles Philip Moore) as they completely forget about the first person dying and show no emotions for it until others start dying. Yeah, it's a bit trivial, but that lack of continuity really bothered me for some reason. As for the rest of the deaths, most of them are average, but a couple manage to be actually cool and unique. The story does tend to get a bit silly, but this small Evil Dead clone managed to entertain me. This is no surprise though as I do love these kinds of corny films. Just wish it hadn't taken 45 minutes to get to the good stuff. Overall, though, not bad.
Jason Duron
Demon Wind Quotes
There are no approved quotes yet for this movie.
Discussion Forum
Discuss Demon Wind on our Movie forum!