Demonic
(2014)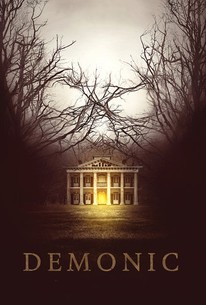 Movie Info
When a hot-looking group of teenagers (led by Nicole Petty and Daniel Maclagen) loses their way in a mysterious forest, they unearth a bevy of wood nymphs who are as deadly as they are beautiful. Horror master Tom Savini makes a memorable cameo as a hermit who lives in the wild and does his best to survive the she-devils who inhabit it. Extras include a behind-the-scenes documentary with exclusive casting session footage.
Rating:
R (for some vioelnce/terror and brief language)
Genre:
Directed By:
Written By:
In Theaters:
Runtime:
Studio:
Dimension Films
Critic Reviews for Demonic
Audience Reviews for Demonic
Really wish I knew this movie was, in part, a found footage film. I never would have wanted to see it then.
Megan Handley
This film was cliched and up to its neck in false jump scares. Not worth anyone's time, not even for the most committed horror fan.
Jason Mickey
½
5.5/10 The preview of this movie looked actually good, and so that was the reason I decided to watch this movie, and although that was a long time ago because I completely had forgotten about this movie. But still the movie had some good jump scares that really freaked me out, but the narrative and the story were kind of very a let down. The story was all over the place and the way the jumped from the present to the recordings, it just felt odd. While the story was kind of predictable, and close to the end when it suddenly became interestingly creepy, the ending was just bad. That being said, I was disappointed even though it did scare me a few times, and even with some recognizable actors, the story was the death of this movie. ~August 13, 2015~
Hugo Guerrero