Demonic Toys (Dangerous Toys)
(1992)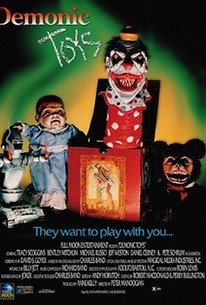 AUDIENCE SCORE
Critic Consensus: No consensus yet.
Demonic Toys (Dangerous Toys) Photos
Movie Info
An early, derivative effort from Charles Band's incredibly prolific direct-to-video outfit Full Moon Productions, this is an undercooked stew of a dozen horror plots, particularly Child's Play and Night of the Living Dead. A tough lady-cop (Tracy Scoggins) is forced to curtail her task of collaring a pair of sleazy gun-smugglers in an abandoned toy warehouse when the toys suddenly spring to life at the command of a murderous demon-child. While the policewoman tries vainly to organize the hapless humans trapped in the warehouse (pudgy rent-a-cop, transient, chicken delivery boy), the possessed playthings move in for the kill. The silly proceedings are helped along by whirlwind editing, the attractive, butt-kicking Scoggins, and a colorful assortment of monsters -- including a fanged jack-in-the-box, a laser-shooting robot, a ferocious teddy bear and the potty-mouthed "Baby Oopsy-Daisy." Though pretty slick overall, the entire exercise is flattened by the script's dreadful attempts at humor -- particularly from the demon himself, whose stupid Freddy Krueger-isms are like nails on a blackboard. ~ Cavett Binion, Rovi
Critic Reviews for Demonic Toys (Dangerous Toys)
Audience Reviews for Demonic Toys (Dangerous Toys)
Yes its totally stupid and not in the least bit scary, I dunno why its referred to as a horror, but this cult is highly enjoyable with its basic charming effects. Of course its ridiculous and has a high trash content with strong levels of cheese but with a film about killer dolls what do you expect, its much more of a light-hearted horror comedy. The main swing here is the dolls of course, a killer teddy bear, a baby doll, a robot and a jack in the box, all of which actually look kinda cool, not scary, more eerie and bizarre, think killers Muppets. The sequences where the dolls attack are pretty amusing and the highlight of the film, with their limited movements and funny voice work its hard not to enjoy despite how silly it is watching a grown adult thrash around as he's being attacked by a psychotic Fozzie the Bear. The whole concept is hard to pull off but its an interesting one, toys coming alive. Much like 'Toy story' and 'The Twilight Zone' its a fun route to explore, plus the dolls are all well designed and crafted with obvious care and attention.
Phil Hubbs
Super Reviewer
Absolutely Retarded!! The toys were not scary at all, looked superficial. The plot was stupid but it's a cult classic silly fun.
Sylvester Kuo
Super Reviewer
From the writer of Batman Begins comes this obvious but sometimes creepy made-for-tv horror. The real stars are the toys themselves but their are only 4 that are noticeable. Their kills also lack originality, with most of them being biting. The baby character was quite funny and disturbing. The toys were brought to life really well with puppets.stop motion etc. Nice old skool practical effects. It's an easy and enjoyable watch that's hard to dislike.
Luke Baldock
Super Reviewer
Demonic Toys (Dangerous Toys) Quotes
There are no approved quotes yet for this movie.