Demonwarp
(1988)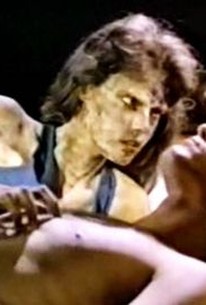 AUDIENCE SCORE
Critic Consensus: No consensus yet.
Movie Info
Moronic teens vacationing in Demonwood Forest are terrorized by a shambling Neanderthal -- not the director, but a big goon in a fuzzy ape suit who attacks George Kennedy and hauls his daughter off into the woods to a fate worse than death... perhaps to a screening of this movie. As it turns out, the rampaging beastie (which looks like a soiled feather-duster on legs) is not the local monster of mountain legend but merely a front for the subterranean activities of a cult of devil-worshipping aliens (they could have just called the tabloids if they needed better PR), who pass the time turning the locals into zombies... not a difficult task, especially with this brain-dead bunch. Cheap sets, dime-store costumes and Dinner Theater thesping lend a certain chintzy Ed Wood charm to the proceedings, but even this level of absurdity can't cover up the fact that the film's investors -- to say nothing of the audience -- probably felt profoundly rooked.
Critic Reviews for Demonwarp
There are no critic reviews yet for Demonwarp. Keep checking Rotten Tomatoes for updates!
Audience Reviews for Demonwarp
½
Holy shit! This may be the greatest Horror influenced, B-movie Cheesefest I have ever laid my eyes on. Don't read the info because it's a little misleading. A meteor crashes into Earth a hundred years ago (ok), span to the present, which is 1987, where dad (George Kennedy) and daughter are playing a game in their cabin when some crazy ass, cheap ass, man in a bigfoot suit comes crashing in and tearing the daughter apart (um...ok). Span a few months later where a group of friends (5 of the most annoying actors in the WORLD!!!) come out to said cabin to track the bigfoot (against the warning of Mr. Kennedy), but wind up getting picked off one by one until they flee through the woods where the beast continues to hunt and kill, along with other random ass people who are roaming around in the woods (including Michelle Bauer and her AMAZING set of tits). Oh, yeah, there is ample amount of titties bouncing around in this film for all of you nudity aficionados. Anyways, everything winds up culminating in this truly bizarre alien domination, fully equipped with Alien Zombies!!!! A truly bizarre film that has to be seen to be believed, but I loved every minute of it, even if just about every person in this fucking movie irritated the hell out of me with the exception of Kennedy (who you think is going to be vital but winds up being wasted terribly in this movie) and Bauer (who is naked throughout at least 80% of her screentime). What a movie!
Jason Duron
Demonwarp Quotes
There are no approved quotes yet for this movie.
Discussion Forum
Discuss Demonwarp on our Movie forum!