The Departed
(2006)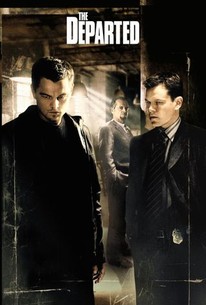 TOMATOMETER
AUDIENCE SCORE
Critic Consensus: Featuring outstanding work from an excellent cast, The Departed is a thoroughly engrossing gangster drama with the gritty authenticity and soupy morality we come to expect from Martin Scorsese.
Movie Info
Legendary director Martin Scorsese takes the helm for this tale of questionable loyalties and blurring identities set in the South Boston organized crime scene and inspired by the wildly popular 2002 Hong Kong crime film Infernal Affairs. As the police force attempts to reign in the increasingly powerful Irish mafia, authorities are faced with the prospect of sending in an undercover agent or seeing their already frail grip on the criminal underworld slip even further. Billy Costigan (Leonardo DiCaprio) is a young cop looking to make a name for himself in the world of law enforcement. Collin Sullivan (Matt Damon) is a street-smart criminal who has successfully infiltrated the police department with the sole intention of reporting their every move to ruthless syndicate head Frank Costello (Jack Nicholson). When Costigan is assigned the task of working his way into Costello's tightly guarded inner circle, Sullivan is faced with the responsibility of rooting out the informer before things get out of hand. With the stakes constantly rising and time quickly running out for the undercover cop and his criminal counterpart, each man must work feverishly to reveal his counterpart before his identity is exposed by the other. Martin Sheen, Alec Baldwin, and Ray Winstone co-star, and writer William Monahan adapts a screenplay originally penned by Alan Mak and Felix Chong. ~ Jason Buchanan, Rovi
News & Interviews for The Departed
Critic Reviews for The Departed
Audience Reviews for The Departed
Daniel Mumby
Super Reviewer
This is just too awesome.
There are lots of things I didn't like about this movie, namely the entire cat-and-mouse plotline. How could neither Billy Costigan nor Collin Sullivan nor anyone else not figure out that those two are the double agents? It seemed pretty common knowledge that Collin grew up under the wing of Frank Costello and that bad shit keeps happening after Billy joins Costello's mob. Is Costello really that trustworthy and critical a thinker to believe correlation doesn't equal causation? The alliterative names are also confusing. I'm not a fan of early-aughts Marty or Leo, but Leo isn't bad in this role. Matt Damon's face and voice are too boring to play a villain, Martin Sheen's character is pretty thankless and dies easily, and Marky Mark's character is just a dick for the sake of being a dick - hardly enough meat to develop an Oscar-worthy performance. The only female character is just there to form a slapdash love triangle, and the script doesn't even write her as a realistic psychologist.
Alice Shen
Super Reviewer
The Departed Quotes
| | |
| --- | --- |
| Colin Sullivan: | Do you got fucking tapes? Of what? Costello was my informant! I was a rat? Fuck you, prove it! He was working for me, he was my informant! |
| Billy Costigan: | Shut you're fucking mouth. Come on, get up! |
| Colin Sullivan: | What is this a citizen's arrest? Blow me! Alright, only one of us is a cop here Bill. You understand that Bill? No one knows who you fucking are! |
| Billy Costigan: | Would you shut the fuck up!? |
| Colin Sullivan: | I'm a sergeant in the Massachusetts State Police, who the fuck are you? I erased you! |
| | |
| --- | --- |
| Dignam: | Oh you're a fucking genius huh? Who forged you're transcript, dickhead? |
| | |
| --- | --- |
| Frank Costello: | I got this rat. This gnawing, teething rat. |
| | |
| --- | --- |
| Frank Costello: | When I was your age, they would say you could become cops or criminals; today what I'm saying to you is this: When facing a loaded gun, what's the difference? |
Discussion Forum
Discuss The Departed on our Movie forum!