Derailroaded
(2005)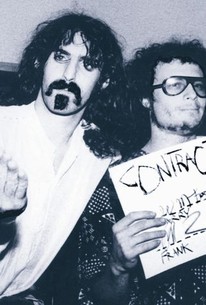 Movie Info
Larry "Wild Man" Fischer was a wildly eccentric singer who in 1968 was discovered on the streets of Hollywood by Frank Zappa, who was intrigued by Fischer's offer to write and perform original songs for passers-by for a mere ten cents each. After hearing a few dollars' worth, Zappa offered Fischer -- who had been wandering the edges of the music business for several years, with no success -- a recording contract, and in 1968 the album An Evening With Wild Man Fischer was released. Sometimes funny, sometimes harrowing, and always boasting Fischer's wobbly matter-of-taste voice and adult-child songwriting, the two-LP set of oddball tunes (including "Merry-Go-Round," "Monkeys vs. Donkeys," "Are You From Clovis," and "The Rocket Rock") sold only modestly, and after an altercation at Zappa's home, Fischer soon found himself without a record deal. While he remained a favorite among a tiny cult of admirers, Fischer was difficult for most folks in the music industry to deal with -- he'd been diagnosed as both a manic-depressive and a paranoid-schizophrenic, and his extreme mood swings, obsessive need for attention, and inability to conform to societal standards of public behavior have kept him at the sidelines of show business as a freak talent, when his abilities are acknowledged at all. But there are a number of people who know music and believe Fischer is a genuine talent, including legendary big band singer Rosemary Clooney, soul icon Solomon Burke, Devo leader Mark Mothersbaugh, and music historian and disc jockey Dr. Demento. Derailroaded: Inside the Mind of Larry "Wild Man" Fischer is a documentary which offers a look at Fischer's torturous childhood, his strange adventures in show business, his struggle to be heard, and his constant battle with his own demons; the film includes interviews with Fischer and his admirers, as well as vintage performance clips (including his appearance on Laugh-In).
Rating:
NR
Genre:
, ,
Directed By:
In Theaters:
On DVD:
Runtime:
Studio:
Critic Reviews for Derailroaded
Audience Reviews for Derailroaded
I went into this film knowing absolutely nothing of the man known as Larry 'Wild Man' Fischer. By the time of the end credits I was definently a convert of this man's extroardinarily bizarre, creative and primal music though. A true originator of Outsider music, throughout his career he worked with many big names (most notably Frank Zappa) but his career was always plauged by his manic depression and his paranoid schizophrenia. The film contains excellent interviews with Frank Zappa, Zappa's Wife, Dr. Demento, Wierd Al Yankovic, Barnes and Barnes, Devo, Family members etc. At times this film is very funny, and at other times it's heart breakingly sad. Definently a touching portrait of a difficult man, and one not to be missed for fans of outsider music. That being said, as with all outsider music, these songs won't appeal to the majority of people. While the music is emotionally engaging, often catchy, always heartfelt and sincere, less adventurous music fas will just feel alienated from it. If you enjoy boring msic like The Beatles or Coldplay or the fucking Eagles you probably won't like his music. Even still as a documentatry it is very well done and there are no complaints there. Recommended.
Ed Fucking Harris
Super Reviewer
½
December 9, 2005 After watching "Derailroaded," I knew I'd spent time with someone profoundly unique. If it's true the world only needs one of everyone, Larry "Wild Man" Fischer is the reason why. Such a statement isn't meant to sound derogatory. But those who recall Larry during his tumultuous life can attest to how much of a handful he can be. Heck, even I can verify it, and all I've done is watch the documentary.[/color] [color=wheat]If the filmmakers - Josh Rubin and Jeremy Lubin - like delving into the extreme and bizarre, Larry's their man, a paranoid-schizophrenic who experiences waves of manic depression and hallucinations, manifesting people who are out to get him. At one point, he suspects Steven Spielberg. Poor Larry walks back and forth in his aunt's house, living and sleeping in filth. He cares for his aunt's dog and only recently returned from elusive traveling. Nowadays, Larry seems harmless, but at 16 he was institutionalized for nearly stabbing his mother with a knife. When released, he wandered around Los Angeles where the streets became his personal concert venue, singing uninhibitedly and from the heart. He earned the nickname "Wild Man" and developed a cult following in the outsider music genre, which, we're told, involves singers with no professional training and rocking on whim. Larry must have done something right, though, since he cut his first album with Frank Zappa. Maybe you've heard his famous Rhino Records theme or passionate "Merry-Go-Round" song. It's not exactly pleasing to the ears, but it is catchy. Rubin and Lubin's documentary reveals an incorrigible and insatiable man. Hitherto "Derailroaded," I'd never heard of him, but the film is a testament to how one person can lead an amazing life through unconventional means. How many people can say they've appeared on "Rowan and Martin's Laugh-in"? Or was the subject of his own comic book? And made it on the Top 50 charts in England and sang a duet with Rosemary Clooney? Interviews from Larry's family, Frank and Gail Zappa, Weird Al Yankovic (who swears he's not trying to kill Larry), and Dr. Demento provide compelling history on a man who lives by never losing his pep. I'm glad I got a chance to meet Larry. While I'll probably never know him personally, his story contains the kind of nuance and poignancy that only real life can provide. But what is real life, after all, to someone like Larry? Only at the very end of the movie did I see how he went "off the track." Everything else was an adventure. For him, because he lived it. For us, because we got to see and hear about it.
Matthew Huntley
Discussion Forum
Discuss Derailroaded on our Movie forum!