The Descent 2
(2009)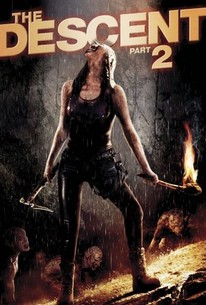 Movie Info
The Descent editor Jon Harris makes the leap to the director's chair in this sequel to Neil Marshall's claustrophobic 2005 creature flick. Sarah Carter (Shauna MacDonald) has managed to escape from the Appalachian cave system where all of her friends were killed by "crawlers" -- primordial humanoids who have adapted to living in the subterranean darkness. In hopes that some of the spelunkers may have survived, Sheriff Redmond Vaines rounds up his deputies for a rescue mission, and decides to take Sarah along as a guide. At first Sarah has no memory of the horrors that wait below, but the further the team pushes into the cave, the more vivid her flashbacks become until the reality of the situation sinks in. Now, the rescue crew is being hunted from the shadows by a whole new clan of crawlers that are even more vicious and terrifying than their predecessors. Sarah was lucky to make it out of the caves alive the first time -- will that luck carry over into her second descent, or is she doomed to die while dreaming of escaping into the sunlight?
Rating:
R (for strong bloody horror violence, grisly images, terror and language)
Genre:
, ,
Directed By:
Written By:
In Theaters:
On DVD:
Runtime:
Studio:
Critic Reviews for The Descent 2
Audience Reviews for The Descent 2
"Well, we've lost 5 women down a hole here in the Appalachias. Only one's returned, covered from head to toe in somebody else's blood, and she's got no memory. My plan: we clean her up and get her to lead another team down the same hole, ASAP, fresh blood if you will, and we look for the rest. Who's with me?" People wandering around in dark underground caves inhabited by mutant cave ghoulies and oops, their flashlight batteries go out! Wonder what happens next? Same genre, more fun.
Kevin M. Williams
Super Reviewer
[img]http://images.rottentomatoes.com/images/user/icons/icon13.gif[/img] As a gleefully gory and totally nuts and bolts horror flick, Descent 2 is everything that it wants to be. But that's less than I can say for the fans of Neil Marshall's jaw dropping, heartbreaking original. Now i'm one of them, I am in love with The Descent. I still think it's one of the ultimate horror films of the 21st century if not a great example of pure character emotions manifested by brutal violence on screen. The sequel however is expectedly dull apart from the final 30 minutes in which it practices what every other horror flick ends up undertaking. Crank the volume up and splatter blood in our faces. The original film did a lot more than that. It made us endure claustrophobia which has only been done cinematically a small handful of times before. This time the surprise of the first one has dissapeared and the nail biting silence and enigmatical horror is therein replaced with gory set pieces and a larger appearance of crawling creatures than the last film. It is less imaginative in plotting and weaker directed than it's predecessor with one major difference which eventually counted for little change in the story anyway. The most unforgivable trait however is the weak, uninteresting group of characters which in the original were much more fleshed out, likable and much more vulnerable. The way they were defenseless made the original work. The Descent 2 fails in this sense. It's definitely not the worst sequel in the world of horror but I would never watch it again. The problem is not that it's extraordinarily free of merit, which it isn't. It's the lack of justification for it's existence that bothers me. It adds nothing to the legacy of the first one and simply deserves to be forgotten by true fans. If you're someoene who never saw the first one and the various shots that it boasted which inspired such great awe, you'll see more in this follow up than the rest of us should. It doesn't help at all that it features a less than radical conclusion to the overwhelming story of hope, suffering and regret which was it's forerunner.
Directors Cat
Super Reviewer
This is going to be the christmas movie of 2009 .......lol can t wait till it opens on the 2nd dec...... A desent horror insend of the over hype new moon!!!
Brian De Guelle
Super Reviewer