Desire
(2012)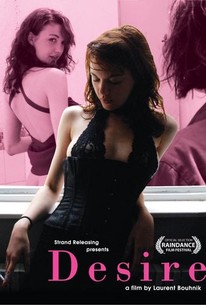 AUDIENCE SCORE
Critic Consensus: No consensus yet.
Movie Info
Stories of love and desire make up the emotional and sensual center of DESIRE. As 20-year-old Cecile deals with the loss of her father, she seeks solace among a vibrant group of friends and lovers. Unable to find a meaningful connection through random sexual encounters, Cecile learns the distinction between physical and emotional intimacy, a lesson that leads to the way to acceptance and healing. Directed by controversial French filmmaker Laurent Bouhnik (24 Hours in the Life of a Woman), DESIRE is a frank and insightful examination of sexuality and ethos among young people today.
Critic Reviews for Desire
There are no critic reviews yet for Desire. Keep checking Rotten Tomatoes for updates!
Audience Reviews for Desire
½
In "Desire," Cecile(Deborah Revy) cannot decide how to properly dispose of her father's ashes. Meanwhile, her friend Matt(Gowan Didi) has other things on his mind, like his shy girifriend Alice's(Helene Zimmer) seeming unwillingness to go any further in their relationship. That is not a problem that Cecile's unemployed boyfriend Chance(Johnny Amaro) has, as he has to fight off her advances. So, what do you do with a movie like "Desire?" It is undeniably erotic in more than a few scenes while also containing a rape scene. Some might say that such explicitness is pornography. But say what you will about pornography but at least it knows what it wants to do, however unrealistically. On the other hand, "Desire" makes a random feint towards realism by bringing up unemployment and a labor strike once or twice while being framed by shower scenes shot at waist level. And all of that is wrapped in Cecile's daddy issues.
I sometime go out of my way to find obscure films because I do believe there are many films of good quality that deserve an audience and I would like to garnered them some attention. I can't say the same for this French "film" titled "Desire" (also know as Q). I'll tell you the only thing I desire while watching was to watch another movie. This is the part where I would give a synopsis on the plot, except this "movie" has none. I tried very hard to thinking back at everything I saw and trying to figure out if any of it had a point. I could not do it. The "movie" was entirely pointless. Conversations tend to go nowhere, the characters often cheat on their husbands or wives never face any sort of consequences, sub-plots disappear and then reappear again for no reason, and I have never read so many subtitles about sex. I don't have a problem reading subtitles, but this is the first time I got annoyed by subtitles. All anyone ever talks about in this "movie" is sex, sex with friends, sexual fantasy, stories about sex, and everything else that has to do with sex. It's the first "movie" I ever saw that made sex boring, which is quite an accomplish. Now you might notice every time I said "movie" or "film" I write it like that. It's because this is not an actual movie. I repeat, not an actual movie. It is, however, a very boring porno. I had doubts about calling this a porno, but then I remember the first thing we see in the first twenty second is naked women in a shower talking about sex. Which reminds me, this also fails as a porno. Some of the people in this are attractive (especially leading actress Deborah Révy), but even the sex and nudity becomes boring to watch. The first 30 minute contains enough for anyone to start losing interest and it's unbearable for the rest of it duration. Never have I ever felt the desire to quit watching anything, and this is coming from the same guy who saw a movie about a killer elevator without the need to turn it off. Sure the killer elevator movie (title De Lift) was bad, but I would choose that over this any day. Desire is a very pointless "movie" and a very dull porno too. This movie proves that sex will not always sell well, no matter how many (over 10 in this) sex scene you have.
Caesar Mendez
Super Reviewer
Desire Quotes
There are no approved quotes yet for this movie.