Desk Set
(1957)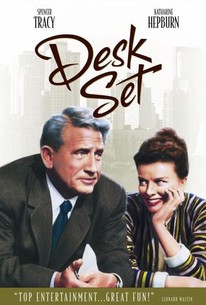 Movie Info
Based on the Broadway play by Robert Fryer and Lawrence Carr, Desk Set represents the eighth screen teaming of Spencer Tracy and Katharine Hepburn. Hepburn plays the head of a TV network research department; Tracy plays an efficiency expert, hired to modernize Hepburn's operation. When Tracy has a huge computer installed, Hepburn and her co-workers (including Joan Blondell and Sue "Miss Landers" Randall) fear that they're going to lose their jobs. Their suspicions are confirmed when the computer merrily begins issuing pink termination slips. But something is obviously amiss: the computer not only fires the ladies, but also the head of the network--and Tracy, who isn't even on the company payroll! At this point, Tracy explains that the computer was designed to help Hepburn and her staff and not replace them; he also confesses that, given the pink-slip incident, this might not have been such a hot idea. But Hepburn, who has fallen in love with Tracy, is in just the right mood to forgive him--and doesn't need to consult her research files to come up with this decision. ~ Hal Erickson, Rovi
News & Interviews for Desk Set
Critic Reviews for Desk Set
Audience Reviews for Desk Set
What I really appreciated in this movie was that Hepburn was like - what, 50? - and Tracy approaching 60, and they could still create a magic movie that never, ever alludes to their age (which modern studio execs, particularly Nancy Meyers, would absolutely leap on). Also, I think that Joan Blondell is a ton of fun. It's nice to know she held onto her spark til the end.
Jennifer Xu
Super Reviewer
Even people today can relate to the problems of modernization in the workplace, which is what this movie deals with, but in a humourous way. Hepburn and Tracy are great together as always, and this movie is a lot of fun.
It is always fun to watch Katharine Hepburn and Spencer Tracy. Imagine a movie about a computer replacing staff researchers! Actually, the movie is a bit silly. Of course, Tracy and Hepburn fall for each other, so the computer story-line is only a side issue.
Desk Set Quotes
There are no approved quotes yet for this movie.