Destination Moon
(1950)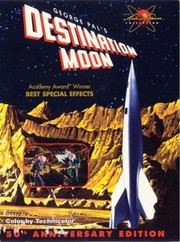 Tickets & Showtimes
Destination Moon Trailers & Photos
Movie Info
A surprisingly prophetic depiction of space travel that won an Oscar for Best Special Effects, Destination Moon traces the flight of four astronauts (Warner Anderson, John Archer, Tom Powers and Dick Wesson) to the moon. When they get there, they realize that the ship is too heavy to lift off the surface.
more
Cast
News & Interviews for Destination Moon
Critic Reviews for Destination Moon
Audience Reviews for Destination Moon
½
Industrialist: Now listen, fella, I've known you from way back. Two-engine planes weren't fast enough: you had to go in for four. Then props weren't fast enough: you had to go in for jets. Now you've got a hold of something else, something that'll go higher and faster than anything that ever existed before. You can't swing it alone, so you're trying to rope us in on it. Well, before we go along with you, you'll have to tell us: what's the payoff?
Jim Barnes: Dollars and cents? I don't know. I want to do this job because it's never been done. Because I don't know. It's research, it's pioneering. What's the Moon? Another North Pole - another South Pole - our only satellite, our nearest neighbor in the sky.
Industrialist: But why go there, Jim?
Jim Barnes: We'll know when we get there; we'll tell you when we get back. It's a venture that I don't want to be left out of.

Upon its release, this was the biggest sci-fi adventure of the time. Praised for its realistic tone and use of special effects, today it stands as an enjoyable adventure, even if we now know better about how this would really work.

The story involves a group of scientists who design a rocket ship and attempt to land on the moon. They succeed in this, but problems arise when dealing with how to get back

Today there is plenty that will seem corny about it, but it features men doing a fine enough job in this feature, with some subtle anti-communism points hit as well.

The special effects are all handled well for the time and the score is of course big and appropriate.

Its a fun enough flick with some deeper themes that are certainly more apparent now as a reflection of the past.

Sweeney: General, how serious are you about this?
General Thayer: [very bluntly] Deadly serious.
I was trying not to judge it too harshly, because 1950's sci-fi will always be severely dated. So in the end, my beef with the film is more just sub par film making than accuracy. The characters are mostly bland and interchangable (with the exception of a goofy "brooklyn" character thrown in for comic relief and giving the other astronauts someone to provide exposition to). The film is shot like one of those 1950's educational films, with boring master shots, and fairly goofy dialogue. I have a feeling even in its day it wasn't considered quality film making. I think the main reason to watch is to see what the" idea" of going to the moon was like before we actually knew how it really went down, and how close they got. That and a strange appearance by Woody Woodpecker... no joke. A kind of fictional time capsule.
Discussion Forum
Discuss Destination Moon on our Movie forum!
News & Features