Destino
(2003)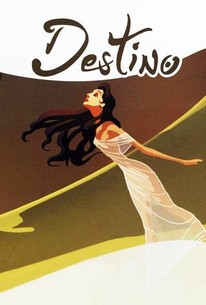 Movie Info
Short film to a song of love lost and rediscovered, a woman sees and undergoes surreal transformations. Her lover's face melts off, she dons a dress from the shadow of a bell and becomes a dandelion, ants crawl out of a hand and become Frenchmen riding bicycles. Not to mention the turtles with faces on their backs that collide to form a ballerina, or the bizarre baseball game. From the melting clocks and hourglass sand, to the figure rendered in strips, to the character covered in eyeballs, the style and themes of Dalí are clearly recognizable throughout.
Rating:
PG
Genre:
, ,
Directed By:
Runtime:
Critic Reviews for Destino
Audience Reviews for Destino
½
What do Walt Disney and Salvador Dali have in common? The answer to this cryptic question is the surrealist animated short, "Destino." While the style of this short is fascinating, its 58-year production history is even more interesting. In 1945, a collaboration began that would combine Disney's storytelling with Dali's artistic style. It was storyboarded over an 8-month period when the fallout of World War II took its toll on the economy and permanently shelved the project. With the eventual deaths of Disney and Dali, the project was seemingly lost forever until Roy E. Disney stumbled upon the project in 1999. The completed short only contains 17 seconds of footage from 1945 but keeps the story intact. Before you approach "Destino" with an expectation of a traditional Disney short, the animation looks nothing like Disney. It is more like a combination of cubism and Dali's signature melting clocks. Also, the story is used mainly to tie together the interesting imagery. This film is more like a work of art than a child-friendly cartoon. There are some fascinating visual moments where a silhouetted shape suddenly becomes something else. It's too difficult to describe and worth watching the 6-minute short to see these transformation. The surrealism is further enhanced by the antiquated musical soundtrack that contrasts the modern computer animation. Even though I find the film to be trippy and difficult to follow, I was glad to see it receive an Oscar nomination to bring acknowledgement to Disney for resurrecting this abandoned project. "Destino" probably won't leave you wanting Disney to make another short in this style, but it is worth seeing if you have an interest in Dali's artwork.
Jonny Priano
An absolute masterpiece of animation; the finally-realized efforts of two of the greatest artistic geniuses of all time. Destino's powerful images are moving and beautiful (as could be expected from Salvador Dali), the music is fantastic, and the animation is stunning. What more could you possibly ask for?
ZeldaGiygasLord 603
Finally got to see THE TRIPLETS with my son at the local arthouse theater. It was quite a little trek, taking the bus to the downtown location, eating corn dogs on the street corner, and then going into the lovely little auditorium for the film. It was preceded by the Dominique Monfery/Salvador Dali/John Hench animated short DESTINO, and honestly, it was a disservice to BELLEVILLE to run that short beforehand. I was still reeling from the surrealist romp with its tinny romantic soundtrack for at least the first twenty minutes of the main film. If Dali had actually been able to produce all of the art for it, I might have died of sensory overload right there in my cushy red velvet seat. Absolutely stunning - I see why monolith94 had it in his top ten of the year. As for THE TRIPLETS, it was a charming little journey with some surrealism of its own - kidnapping bicyclists for bizarre gambling gauntlets? - and many running jokes that continued to amuse throughout. I loved the fact that it had no subtitles and very little dialogue; like most good Canadian animation, it tells the story without having to prattle on. The sound design, foley and music were all tremendous. But I couldn't help thinking it was a bit like the caramels Bruno lusted after - chewed on it, and chewed on it, and in the end had a satisfying but not altogether filling experience. My son did love it, and I suspect I'll buy it when it's available on DVD (especially if it includes DESTINO!), but it wasn't [i]quite[/i] the revelation I was hoping for.
Saska Weidner
Destino Quotes
There are no approved quotes yet for this movie.