Gamera tai uchu kaijû Bairasu (Destroy All Planets) (Gamera vs. Viras)
(1968)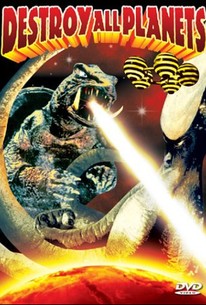 AUDIENCE SCORE
Critic Consensus: No consensus yet.
Gamera tai uchu kaijû Bairasu (Destroy All Planets) (Gamera vs. Viras) Photos
Movie Info
Super turtle Gamera fights off attacks by giant flying squid spaceships in this exciting adventure. (AKA Gamera vs. Viras)
Rating:
NR
Genre:
, ,
Directed By:
Written By:
On DVD:
Runtime:
Studio:
Daiei
Critic Reviews for Gamera tai uchu kaijû Bairasu (Destroy All Planets) (Gamera vs. Viras)
All Critics (1) | Fresh (1) | Rotten (0) | DVD (1)
Has juuuuust enough warped silliness that it's fun-bad and not simply bad-bad.

Audience Reviews for Gamera tai uchu kaijû Bairasu (Destroy All Planets) (Gamera vs. Viras)
So after weeks of not seeing my favorite fire-breathing giant turtle monster, I decided it was time to view another entry in the Gamera series. Unfortunately this is easily the dullest entry in the series. Gamera vs. Viras is about Gamera falling under control of evil aliens, but two children free him and he returns to fight the aliens' monster, Viras. Now this version is more campy and aim towards children and it somehow makes the human characters even more boring and dumber than before. In the movie, the UN has to make a choice of either saving Earth or saving two little kids on a spaceship colored like a bumble bee. Guess what the UN chooses, to save two little kids over planet Earth. Heck, the two little kids that get captured by aliens are easily the movie smartest characters as even they tell the adults to save Earth over themselves. Main point, human characters are still a problem, the story is predictable and for little kids, and the happy music playing during this movie is annoying. So enough about the human characters as I expected that from the series, what I didn't expect was barely any new footage of Gamera in this movie. There's literally a scene in the movie that's just 20 minute of stock footage from Gamera previous monster brawls. In total, 90% of footage of Gamera in this movie is stock footage. The final monster brawl was fun, but it didn't have the same appeal to it as the previous entries. Now I did get some laughs from the final brawl as I saw Gamera water skiing using a Octopus like monster making it probably one of the series most unintentionally funniest moment. The final monster brawl though slow was fun, but it takes to long to happened and it's not worth watching most of the movie for it. So a Gamera movie aim toward kids doesn't work as it's too campy and Gamera appearance is mostly stock footage. This isn't the worst of the series, but you won't find much to like in this entry.
Caesar Mendez
Super Reviewer
Wow, this movie is cheesy. The alien spaceship looks like bumblebees bunched together. The two kid protagonists are not too bad, at least they are competent. What makes this movie infamous in the Gamera franchise is it uses 19 min. worth of stock footage. The studio started incorporating stock footage to save money and keep the budgets low. There is this one scene where the aliens examine the memories of Gamera, and it flashes back to moments in the three previous films. This scene is very tedious because it goes on for fifteen minutes. The movie did not even have the budget to film scenes with Gamera destroying Tokyo, which are recycled straight from the first film. It stands out because the Tokyo scenes are black and white while the rest of the film is color. The juvenile story and production almost needs to be seen in order to be believed. However, the final fight between Gamera and Viras is a very good one. The film's campiness can make for a hilarious viewing experience when viewed with friends. If you are in the mood for some laughs then give you won't regret watching this, otherwise skip to the end.
Christopher Heim
Super Reviewer
½
This is the cheesiest movie I've ever seen in my life! The kid actors especially. The giant turtle is so bad, it's good, in a weird way. Overall, it's just cheap fun, and easy to laugh at.
Gamera tai uchu kaijû Bairasu (Destroy All Planets) (Gamera vs. Viras) Quotes
There are no approved quotes yet for this movie.
Discussion Forum
Discuss Gamera tai uchu kaijû Bairasu (Destroy All Planets) (Gamera vs. Viras) on our Movie forum!