The Red Chapel
(2010)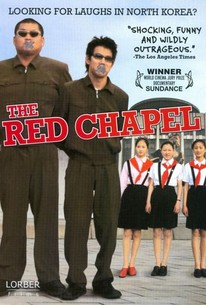 Movie Info
"The Red Chapel" is the name of small experimental theater troupe from Holland that was formed by a pair of Danish performers of Korean descent. Or at least that's what the North Korean government was led to believe when they gave them permission to do a performance tour of the country; in truth, "the Red Chapel" was formed by a pair of improvisational comics (who are in fact of Korean heritage) and a radical journalist who traveled to North Korea in hopes of using subversive, satirical performances as a commentary on the nation's oppressive policies and lamentable human rights record. One of the performers happens to be handicapped, and accentuates his condition as a way of throwing those around him off track. One of the "Red Chapel" pranksters, Mads Brügger, brought along a video camera to chronicle their journey through Korea, and Det Rode Kapel (aka The Red Chapel) is a documentary that offers a glimpse of their performances and the often surprising reactions they received. The performers also add their own commentary about the tour and the North Korean officials who toured with them, whom they grew to like as people even as they loathed the regime they support. The Red Chapel was an official selection at the 2009 Hot Docs International Film Festival.
Critic Reviews for The Red Chapel
Audience Reviews for The Red Chapel
A Danish filmmaker and two Danish/Korean comedians, one of them mentally handicapped go to North Korea to put on a show, and come back with a surprisingly moving act of cinematic subversion, as they slyly undermine Kim Jong-Il's regime unbeknownst to their strict but oblivious handlers. At once a gleefully underhanded "Punking" of the Dear Leader, and a frightening look at real life 1984 run amok. Its real achievement, however, is its heartbreaking and multifaceted look at real North Koreans trapped in a repressive regime.
Matthew Lucas
Super Reviewer
The Red Chapel Quotes
There are no approved quotes yet for this movie.