Deterrence
(2000)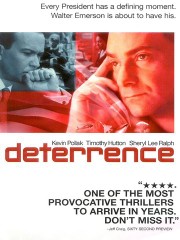 Tickets & Showtimes
Deterrence Trailers & Photos
Movie Info
The world finds itself on the brink of nuclear disaster, with the balance point a small diner in Colorado, in the suspenseful political thriller Deterrence. In the year 2008, U.S. President Walter Emerson (Kevin Pollak), who recently took office after the death of the former chief executive, is campaigning for re-election. After winning the Colorado state primary, Emerson finds himself stranded in a roadside diner after a freak snowstorm. Traveling with Emerson are his chief of staff, Marshall Thompson (Timothy Hutton), national security advisor Gayle Redford (Sheryl Lee Ralph) and a network TV crew. While the president exchanges pleasantries with the diner's staff and customers, a new bulletin appears on TV: Udei Hussein, son of the late Saddam Hussein, has invaded Kuwait and butchered several hundred U.S. peace-keeping troops. Outraged, the president announces that if Hussein and his forces do not withdraw and officially surrender, he will begin dropping nuclear weapons on Baghdad. However, Iraq responds that if they are attacked, 23 cities in the United States and allied nations will be immediately destroyed in a counterattack. Emerson, his advisors, and the others trapped in the diner with them debate long and loud about what to do, and what the potential consequences could be. Deterrence was written and directed by former film critic Rod Lurie.
more
Cast
News & Interviews for Deterrence
Critic Reviews for Deterrence
Audience Reviews for Deterrence
½
[font=Century Gothic][color=darkslategray] "Deterrence" is a movie set in the year 2008 during the Colorado presidential primary. During which, the presidential party is stranded in a diner in the middle of a blizzard. At which point, there is a news alert about Iraq invading Kuwait. "Deterrence" is a throwback to cold war thrillers such as Fail-Safe. Now, this movie is undeniably tense throughout(led by a fine performance with Kevin Pollak as the President) but the ending is a copout. [/color][/font]
[font=Century Gothic][color=#2f4f4f] The movie has a larger problem which is that this movie was made in 1999 and the world has changed immensely since then. So, it's impossible to imagine Uday Hussein leading an invasion of Kuwait and Saudi Arabia now, much less breathing. In fact, it's hard to imagine Iraq presenting this much of a threat now, and not taking terrorism into question.[/color][/font]
This is one of the most poorly conceived, poorly written, badly acted "political thrillers" ever. I am appalled that such fine actors as Kevin Pollack and Timothy Hutton would even be ATTACHED to this piece of garbage.

From moment one, nothing that takes place in the film could or would ever have actually taken place. Never in a million years would civilians be allowed to "hang out" near the President of the United States while he is waging war via satellite. TWO secret service officers enter the place and don't 1) take the cell phones and 2) the PROPRIETER'S GUN away from the civilians during this world-threatening incident? CIVILIANS just throw their personal opinions around to political officials who LISTEN AND ARE SWAYED BY THEIR IDEAS!?

Total crap. Rent "The West Wing."
Matt Ritchey
Discussion Forum
Discuss Deterrence on our Movie forum!
News & Features