Detour
(2013)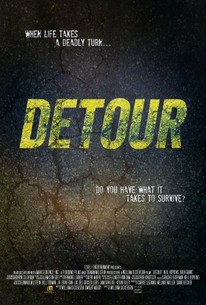 Movie Info
On the road to a high-powered lunch meeting, smooth-talking ad man, Jackson Alder (Neil Hopkins), is brainstorming his next big pitch when he is blindsided by Mother Nature. Swallowed up by a devastating mudslide, he awakens to darkness. Alone underneath an avalanche of mud, his certainty of rescue gives way to a horrifying reality - no one is coming. With oxygen and time running out, Jackson clings to the unfinished life he left behind. Shedding his suit and surveying the limited tools he has at his disposal, Jackson refuses to go down without a fight. Pushing himself beyond his physical and mental boundaries, he must ask himself the ultimate question: What would you do to survive?
Critic Reviews for Detour
Audience Reviews for Detour
½
Interesting idea, but the seeming non-budget left out who this guy is and why we should care about him. Could have been better with an emotional core of relationships revealed - we can't care about this poor guy bc even by the end we know little to nothing genuine about him. They stuck too close to the claustrophobic immediacy, and gave nothing to relate to. So this particular shlub gets no significant back story, and therefore we don't care. We can't! And from even the first few frames, you'll know if you'll like it or not.. 2.5 out of 5
Thomas Porter
I did not see such a nonsense direction on such a wonderful plot for long time. Could not stay not sharing. It could have been so intense and very good movie! Top to bottom the movie did not match with it's story and scene. The guy seemed to be more busy recording himself than get out of it. With a very simply common sense someone will know he is in mud not in rock and that too on the road side, so if he is not dead when he woke up is it that hard to understand even after seeing the light just 3/4 feet above the sun roof? The guy was easily 5.5 tall, so why he could not just put the mats on his head, wrap his body with the some more clothes so if so it does not hurt easily and get some of the mud into dumped the car itself and just stand up pushing the mud standing on the seats? 5 mins thinking and someone can get out of it. And then at the end where did the whole hill at the right side went with all rocks when he finally came out. I mean dear Dickerson did you really play the video once before release? What a wastage of money, time and effort on this!!
808
½
Claustrophobic.....yes.Entertaining.....hell no.More of an experiment in acting than a movie,might have worked better as a play.
bill secor
Detour Quotes
| | |
| --- | --- |
| Jackson Alder: | I see this experience as being born again. Born into the world, from the world itself. |
Discussion Forum
Discuss Detour on our Movie forum!