Detropia
(2012)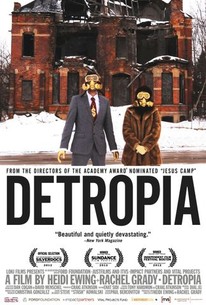 Movie Info
Detroit's story has encapsulated the iconic narrative of America over the last century the Great Migration of African Americans escaping Jim Crow; the rise of manufacturing and the middle class; the love affair with automobiles; the flowering of the American dream; and now . . . the collapse of the economy and the fading American mythos. With its vivid, painterly palette and haunting score, Detropia sculpts a dreamlike collage of a grand city teetering on the brink of dissolution. These soulful pragmatists and stalwart philosophers strive to make ends meet and make sense of it all, refusing to abandon hope or resistance. Their grit and pluck embody the spirit of the Motor City as it struggles to survive postindustrial America and begins to envision a radically different future. -- (C) Official Site
News & Interviews for Detropia
Critic Reviews for Detropia
Audience Reviews for Detropia
A snippet in time that reminds us of what has been lost in Detroit without very much hope of ever seeing it restored to its former splendor. We all know of the forgotten people and buildings and this film is another poignant view of those souls.
John Ballantine
Super Reviewer
Detroit's woes are well known by anyone who pays half-attention to the news. And any red-blooded American is rooting for the revitalization and rebirth of this once-powerful city. The stark contrast of what this city once was and what it has become is the dark side of the American Dream. Therefore Detroit has proven itself to be more than worthy to be a powerful subject for a documentary. Its struggles beg to be documented and told through the lens of an insightful and thought-provoking filmmaker. That's why "Detropia"'s lack of impact is such a surprise. Filmed with a feathery touch and told through an arthouse-lens, "Detropia" doesn't cover any new ground. Fans of beautiful cinematography and stylish storytelling will enjoy "Detropia" but if you are looking to learn new things about Detroit or to really feel and understand the true struggles of this once amazing and now dying city, don't bother going to "Detropia".
Tony Gandía
Super Reviewer
No new ground covered in this doc about the demise of Detroit...cue shots of the Ren Cen at dusk with the GM logo ablaze, despairing statistics and the urban porn star - the ubiquitous and spooky Detroit Central train station. Clueless residents, a union president and an irritating video blogger serve as the narrative to the Motor City meltdown that would have been better served with just one voice. No solutions are offered so what is the use...perhaps as an national cautionary tale? (9-29-12)
Detropia Quotes
There are no approved quotes yet for this movie.
Discussion Forum
Discuss Detropia on our Movie forum!