The Devil Came on Horseback
(2007)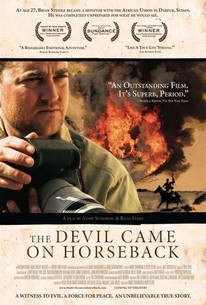 TOMATOMETER
AUDIENCE SCORE
Critic Consensus: The Devil Came on Horseback is both a strong primer on the complexities of the situation in Darfur and a harrowing first-person doc.
The Devil Came on Horseback Photos
Movie Info
The violence and tragedy of the genocide taking place in Darfur as seen through the eyes of an American witness. Using more than a thousand uncompromising and exclusive photographs taken by former US Marine Captain Brian Steidle during his role as a military observer with the African Union, the tragic impact of an Arab government bent on destroying its black African citizens is exposed. As an official military observer, Steidle had access to parts of the country that no journalist could penetrate. He was unprepared for what he would witness and experience, including being fired upon, taken hostage, and being unable to intervene to save the lives of young children. Ultimately frustrated by the inaction of the international community, Steidle resigned and returned to the US to expose the images and stories of lives systematically destroyed. Haunted by what he has seen and the backlash against his advocacy efforts, Brian traveled to the refugee camps of Chad to reconnect with survivors of the violence he witnessed.
News & Interviews for The Devil Came on Horseback
Critic Reviews for The Devil Came on Horseback
Audience Reviews for The Devil Came on Horseback
If you already felt the devastation in Darfur was too complex to easily change, this documentary won't help. We follow a former Marine who, by a damning stroke of fate, found himself with the duty to document each case of genocide. Captain Steidle, raised in a strong military family, came in as a former Marine who had seen his share of combat. He's the only American who witnessed, for 6 months, the merciless violence. It has broken him, and in one scene we see him grieving, overwhelmed by his powerlessness to stop, even just once, what he had seen. After we see him testify to us through the media and meet with our leaders, it seems by the film's end that everyone is powerless, and we all just have to watch it.
Matthew Slaven
Super Reviewer
½
An excellent, well-shot, and cautious documentary which has some truly shocking, and heart-wrenching, moments. It speaks powerfully not only about its own subject, but the conspicuous and utterly horrifying lack of attention it was given, all seen through intensely personal moments. Easy to comprehend, but daunting to fully understand, this documentary has no answers, only emotions and images... and that is what makes it powerful. Like him, we are forced to sit and watch helplessly by the sidelines, and we can easily understand his frustration and pain.
Daniel Hetteix
Super Reviewer
if you want to know more about the situation in darfur this is a great place to start. told by a former marine who volunteered as an unarmed observer in sudan and witnessed all out genocide by the government backed janjaweed militia. it's as if we had the chance to redeem ourselves for rwanda and failed yet again. total respect to brian steidle who fought to get this story out and wake up the world to another ethnic cleansing. this is a horrific and very important film. if you want to see the face of evil, welcome to hell
Stella Dallas
Super Reviewer
The Devil Came on Horseback Quotes
There are no approved quotes yet for this movie.