Devil Girl from Mars
(1955)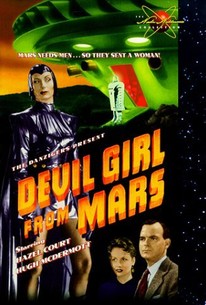 AUDIENCE SCORE
Critic Consensus: No consensus yet.
Devil Girl from Mars Photos
Movie Info
At a quaint Scottish inn, several disparate travelers are gathered for relaxation. Their vacations are disrupted by a beautiful Martian (Patricia Laffan), who explains that her planet needs men for breeding purposes. The film is a British production.
Audience Reviews for Devil Girl from Mars
What's great about the 50's sci-fi era is that there's an overabundance of movies made of this type and you're likely never to run out of things to watch - if that's your thing. It's not really mine, but I try to be fair and give everything a shot. Basically everything that came out after The Day the Earth Stood Still is either a rip-off or an echo of it, and Devil Girl From Mars is no different. Despite that, it actually manages to be at least a mediocre effort. Things are set up early on and paid off later, the characters all actually have something to do in the story and the effects are decent without really being amazing. The biggest draw to the movie, in my opinion, is Patricia Laffan as Nyah the female alien. Intentionally or not, she comes off as a dominatrix who in the story is looking for men to bring back to her planet for procreation. Now that sounds very juvenile, but the characters don't care for the idea of going back with this lady, even though she is kind of sexy if you ask me. The movie doesn't really go anywhere and they made the alien way too menacing and indestructible for the story, but whatever. It's not a bad movie and it's pretty well-made so check it out.
Tim Salmons
Super Reviewer
This is a strange movie storywise, but otherwise it's a formulaic 50s sci-fi movie. I don't think it's worth taking the time to watch really.
Devil Girl from Mars Quotes
There are no approved quotes yet for this movie.
Discussion Forum
Discuss Devil Girl from Mars on our Movie forum!