The Devil Probably (Le diable probablement)
(1977)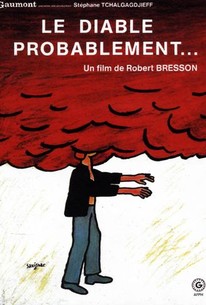 The Devil Probably (Le diable probablement) Photos
Movie Info
In order to be technically free of the mortal sin of suicide, a young man who has given up on the world pays a drug-addict to shoot him. Charles (Antoine Monnier), who is a student, has tried political action and investigated the claims of religion but ultimately finds nothing which will change the overwhelming bleakness he feels surrounded by. In this austere movie by director Robert Bresson, the power of the storytelling comes from the lucidity of the imagery captured on film, rather than in the acting. ~ Clarke Fountain, Rovi
Rating:
R
Genre:
,
Directed By:
Written By:
In Theaters:
On DVD:
Runtime:
Cast
Critic Reviews for The Devil Probably (Le diable probablement)
Audience Reviews for The Devil Probably (Le diable probablement)
In "The Devil Probably," the cause of death of a young man is upgraded from suicide to murder. Six months previously, apparently tired of watching films of cute baby seals being clubbed to death, Alberte(Tina Irissari) leaves Michel(Henri de Maublanc) for Charles(Antoine Monnier), despite the latter's lack of a fixed abode, thus risking her relationship with her parents. That's even though Charles is carrying on with Edwige(Laetitia Carcano) who is having other affairs of her own. "The Devil Probably" does not have a plot in any conventional sense of the word. Rather, it is concerned with some issues that are still relevant to the youth of today, such as the poisoning of the environment. Luckily, nuclear armageddon is no longer such a nightmarish possibility while nuclear waste is still on the table. In this world of possibly no future where religion's influence is on the wane, at least Michael is putting up a fight while Charles just goes around in circles. None of that excuses the flat line readings, especially considering the momentous decisions at stake.
are films where plot and meaning are highly stylized by the director's unique manner of uniting/fusing his intellectual and aesthetic maneuvers into one alive cinematic organism. The donkey "Balthazar" in "Au Hazard" symbolizes not only the human body but the human soul, while the bodies of the young people in "Devil" symbolize the very intelligence of nature as a pantheistically spiritual creation. In the two films (separated by the period of eleven years), Bresson compares the ignorantly indifferent and the passively cruel position of a modern society (obsessed with wealth and glamour and occupied with philistinism of "success" and competition) towards children and youth. With grace of a seeker for truth and with a sarcasm of moral frustration, Bresson depicts how today's system of values becomes more and more anti-spiritual, and for this reason more and more anti-human. Moral radicalism of both films addresses the heart of the viewers with an insistency and intensity of a prophet's demand, and it could be unbearable to receive, if not visual harmony and the rhythmic beauty of Bresson's narrations. These films - two chapters in the history of Western sensibility, is a scandalous verdict on the behavioral anti-Christianity of the so called Christian societies. Please, visit: www.actingoutpolitics.com to read an essay about Bresson's two films: "Balthazar, Marie, Charles, Alberte, Edvige, Valentine (To be Victimized Against our Will as an 'Existential' Law" [posted on Sept. 27, 2010]), with analysis of shots from the films, and also articles dedicated to the films by Godard, Bergman, Bunuel, Kurosawa, Resnais, Pasolini, Fassbinder, Antonioni, Bertolucci, Alain Tanner and Liliana Cavani. By Victor Enyutin
katia baghai
Bresson's look at troubled nihilistic youth. Bresson usually isn't very cheerful, but this was a big downer. A bit on the boring side, too. Kind of seemed at times like a grab bag for various political ideas Bresson might have been kicking around.
Martin Teller
Discussion Forum
Discuss The Devil Probably (Le diable probablement) on our Movie forum!
News & Features