Guizi lai le (Devils on the Doorstep)
(2000)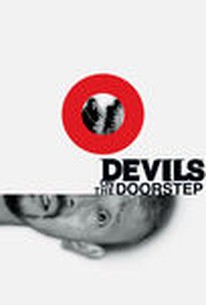 Guizi lai le (Devils on the Doorstep) Photos
Movie Info
Jiang Wen directed and stars as the hapless protagonist in this incendiary, sociopolitical satire set in a Chinese hamlet during World War II's waning days. One wintry night, peasant Ma Dasan (Wen) becomes -- at gunpoint -- the custodian of two Japanese prisoners, one a rabid, jingoistic soldier and the other his self-preserving translator. When the gunman doesn't return, Dasan faces a weighty dilemma: Either slay his captives or free them.
Critic Reviews for Guizi lai le (Devils on the Doorstep)
All Critics (10) | Top Critics (4) | Fresh (9) | Rotten (1) | DVD (3)
In its dry and forceful way, it delivers the same message as Jiri Menzel's Closely Watched Trains and Danis Tanovic's No Man's Land.
December 18, 2002 | Rating: 3.5/5

New York Times
Top Critic
A wild ride that effortlessly combines devilish dark humor, slapstick comedy, extreme violence and bitter satire.
December 18, 2002 | Rating: 3/4

Shot in rich, shadowy black-and-white, Devils chronicles, with increasingly amused irony, the relationship between reluctant captors and befuddled captives.
December 17, 2002

There's a gem of an idea lurking inside this movie, but the film is burdened with an overwrought and static first hour and wild tonal fluctuation.
August 8, 2002
Hollywood Reporter
Top Critic
The tonal shifts are jolting, and though Wen's messages are profound and thoughtfully delivered, more thorough transitions would have made the film more cohesive.
Film Journal International
Audience Reviews for Guizi lai le (Devils on the Doorstep)
Devils on the Doorstep is a comically told tragedy. The characters and story-telling are great. It is a shame that the film was banned since it is very Chinese in spirit -- full of cynicism, vitality, and humor. Compared other war movies, DoD was not hard to take. The film prepares the viewer for its darker moments with its pacing and emphasis on absurdity. Because it winds up pretty grim, I could not recommend it to someone as a comedy but definitely recommend it as a film.
Robert Brogan
Super Reviewer
In every truly comic moment there is perhaps some deep, deep tragedy happening at the same time, or at least that's true in this interesting WWll tale of Japanese occupied China wherein a simple Chinese villager is forced to care for a Japanese prisoner secretly. At first the film seems played for laughs (think: "Life Is Beautiful'), but when it gets serious, it gets real serious. One interesting perspective in the work is how human everyone in the film is whenever they forget that's there's a war going on, for whatever that moment, and they all mostly want to forget ... but then its back to war again.
Kevin M. Williams
Super Reviewer
½
I really enjoyed this movie but it has a very inconsistent tone and it definitely runs a bit too long because of it. It's got a good story however about how a man, who is legitimately trying to do his best to protect his village and his family, gets betrayed by the man he helped keep safe for so long. The movie is also very funny but, again, it isn't consistent. One scene you're laughing, the next you're into the more serious aspects of the film and they don't really ease you into the tonal shifts, it just throws you into the next scene whether you like it or not. The writing is good, it's sharp and funny but also serious when it needs to be. I don't really have much to say about the film, I think it definitely speaks for itself in spite of its jarring tonal shifts. And the ending is pretty great, if a bit depressing. I'd recommend it but it's definitely has its weaknesses which keep it from being truly great.
Jesse Ortega
Super Reviewer
Guizi lai le (Devils on the Doorstep) Quotes
There are no approved quotes yet for this movie.
Discussion Forum
Discuss Guizi lai le (Devils on the Doorstep) on our Movie forum!